If you saw my new years resolutions you already know of my quest for the perfect granola bar. What makes the perfect granola bar you ask?
Easy to make: Yes, I want to make them, so I'm in search of a recipe. Preferably one that's quick and easy.
Healthy: A lot of whole grains, not a lot of sugar.
Packability: I need to be able to individually wrap and store them (in the freezer). Also need them to hold up relatively well even if shoved at the bottom of a backpack.
Chewiness: I don't want them to fall apart when you pick them up (so they can be eaten in the van or a while walking on the trail), nor do I want something that turns into a jaw breaker after 4 days.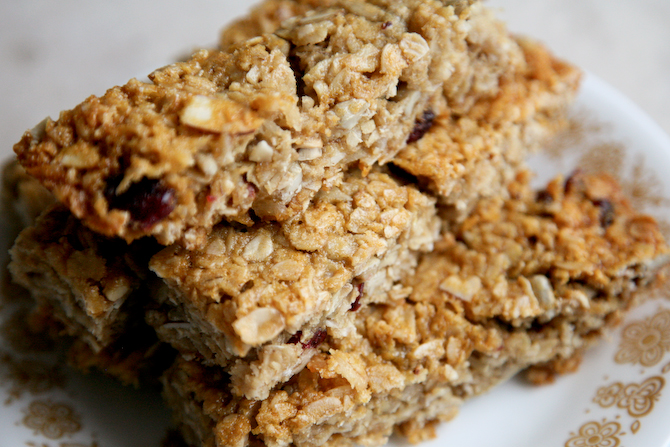 Over the weekend I tried this recipe for Kati's Granola Bars (as suggested by Amelia from Tales of a Mt. Mama). The recipe involved: rolled oats, whole wheat flour, baking soda, vanilla, butter, honey and whatever else you want to mix in (I added craisins, sunflower seeds, almonds and coconut).
Overall I'd say these were great tasting chewy granola bars, but had a few kinks I'd need to work out:
1. They fell apart pretty easily when eaten by a small moving child.
2. My oldest thought were "too sweet"! But I have to admit, they were a bit sweet for me too.
3. I need to make them a little less dense. But how…?
HELP! As I try to create my own perfect adventure worthy granola bar, I want more suggestions. Do you have a favorite recipe I can try? Favorite ingredients? Tips? Thoughts? Ever added something like rice krispies?
In return I promise to share my recipe once I've created the perfect granola bar!