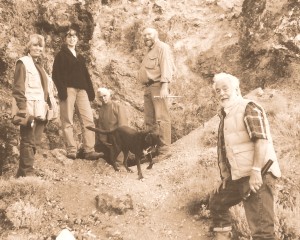 I love traditions.  I love the anticipation.  Knowing what's going to happen next.  Sharing something with friends and family.  Having an activity that is unique to us.  It makes me proud.  Happy.  It makes me want to hug the world.  My family has always been big on traditions, though we never said as much out loud.  But our traditions were never… shall we say… normal.  They weren't the same traditions everybody else had.
At Christmas time, our neighbors placed blow up reindeer in their front yards, they set waving cardboard Santas near their smokeless chimneys, and they put out enough lights to make our street look like an air force landing strip.  Our house looked like a black hole in comparison.  My sister and I yearned to decorate something. My mother had a pitiful looking Norwegian Pine; I think it wanted to die but my mom intervened just regularly enough to keep it living, but sorrowful.  The poor thing never grew to more than three feet tall and frequently struggled just to maintain a sense of Tree.  It was often more brown than green.  Since an entire strand of lights wouldn't fit on the miserable thing, we wrapped them around the banister separating the living room from the stairs to the basement instead. We also hung a few colorful ornaments from the prongs on the antelope head that hangs between the living room windows.  The colorful glass globes would reflect in his black plastic eyeballs, giving their normally stoic glare a bit of holiday cheer.  Christmas eve we would turn off the lights, lay on the living room floor, and have intimate conversations with each other while staring at the blinking light patterns on the living room ceiling, and in the eyeballs of the antelope.
It took me a long time to figure out that nobody's traditions are normal.  If we all did the same thing, it would violate the my sacred definition of Tradition.  I can't find a good definition of tradition.  Some take it very seriously, and if it isn't passed down across hundreds of generations and replete with symbolic gestures, phrases, and trinkets, then it doesn't count… kind of like this.  To me a tradition needs only three things:
1) It needs to happen with some regularity—most favorably on a certain day every year.
Mom's Birthday was an Epic Tradition for us.  The night before we would prepare for the outing, making lists that would rival those made by Lewis and Clark for their two year expedition across the continent.  Our lists were hopeful, imaginative, and included everything we thought we might need for any adventure that might happen the next day. We had a backpack full of field guides, another bag with maps of all of Utah.  Rock hounding supplies, birding supplies, hiking supplies, camping supplies, cameras, extra water, dog supplies, car supplies, and extra clothes.  We would load the car at 4 o'clock the next morning and head out.  Where?  That was up to mom.  For the whole day we would follow her intuition—whatever direction she felt the urge to go, we would go.  We usually ended up somewhere in the Great Basin—the western edge of Utah where flats of sagebrush are interrupted by peaks of varying sizes and composition.  If she saw a peak that looked interesting, we would park and hike to the top, usually returning with pocketfuls of sparkly rocks, fossils, or jaw bones.
Some years we couldn't get out for a full day on Mom's Birthday.  Instead we'd put some ice cream on dry ice, throw the dutch oven in the car, and head out in the evening to watch the Perseid meteor shower while eating Dutch Oven Gingerbread and cold ice cream.
2) It needs to involve family and/or friends.
The date always differed, but some Sunday in the first or second weekend in October was always Applesauce Day.  We'd drive to Grandma and Grandpa's house early in the morning.  Their porch would be lined with boxes and boxes of apples.  Inside, the kitchen would be perfectly clean, with rows of quart jars sparkling along one wall.  Canners would sit quietly, cool and empty on the stove top.  Each of us would take a station:  apple corer, apple cooker, apple smasher, jar filler, or canner.  Inevitably grandma and grandpa would argue about the flavoring of the applesauce (more lemon!  Less cinnamon!), a jar would break, and someone would get applesauce in their ear.  Inevitably we would laugh about something til we were all crying.  Inevitably we would have a running list of inside jokes about applesauce before the second canner was full.  And at the end of the day we'd have hundreds of quarts of applesauce cooling on the countertops.  The kitchen would be humid, the windows covered in a fine layer of steam.  The ceiling would be coated with juice and chunks of apple.  We would have apple in our hair and in the creases by our eyes.  We would be exhausted.  And happy.
3) It needs to have some of the same elements recurring every year.
For Thanksgiving I always dressed up for the dinner table (as in, I ironed a button up shirt and tucked it into my nicest jeans… I also wore my hair down instead of in a ponytail).  We always talked about what we were thankful for, and even as a teenager it always made a lump in my throat.  My grandparents were vegetarian, so the meal was a little different, but always included some soy product that always made my dad gassy afterwards.  Every year my dad would tell me I had a hollow leg.  And every year I would make a point of eating more than him, because I could, because I felt it was expected, and because I loved the idea of having a hollow leg.
Traditions give a sense of stability in an often tumultuous and ever-changing world.  They help us define ourselves (We are the only ones who do this thing!).  And they offer up the perfect excuse to indulge in something you love.  Ours most often involved time outside.  Looking back now I realize how great that was, because it forced us to be out, lest we break with tradition.
The day after Thanksgiving we always headed outside.  With a cooler full of leftovers tucked into Tupperware and the dutch ovens in the car, we'd take off for a few days of camping.  It was cold, and shopping was a priority for many, so we often had the outside world all to ourselves.  Favorite places were Topaz Mountain, where we'd pick at the rocks for hours, hoping to bring home a beautiful crystal.  Goblin Valley in the winter was gorgeous; each 'goblin' sported a festive snow cap.  The Middle of Nowhere was also a favorite, where we'd hike to isolated mountain tops, nap, and 'target practice' on animal cookies with the .22.
What not-normal outdoor traditions do you share with your family?
Here are a few that our readers have shared with us:
On Christmas Eve, we always sprinkle reindeer food (oatmeal and glitter) on our front lawn and go for a nighttime walk around the neighborhood. Our kids love seeing the lights, plus it helps them sleep!
Growing up we use to take a long family hike every Memorial Day. Of course we might have complained a little at the time, but it's definitely something I want to continue with my own kids.
We really like to get outside on Christmas Day. (skating or a walk with the sled) We also like to do something outdoors on Boxing Day after Christmas like skiing. One Christmas we actually went x-country skiing on Christmas Day and then opened gifts the day after with family.
We take a spring break camping trip every year. It's something I started in college and was never really able to give up, even if I don't technically get a spring break anymore.
The family vacation to the beach is definitely a tradition, we've taken a camping trip there for as long as I can remember. We always camp at the same spot, eat the same meals, with mostly the same people and generally get in the same family arguments. It's great.
We have a botanical garden in the area that puts on an AMAZING light display, they make flowers and plants and other stuff out of lights. You walk around the garden at night and it is fabulous. It's a beautiful garden the rest of the year, but the Christmas light display is spectacular. We've gone the past couple of years, and we plan to keep this tradition.