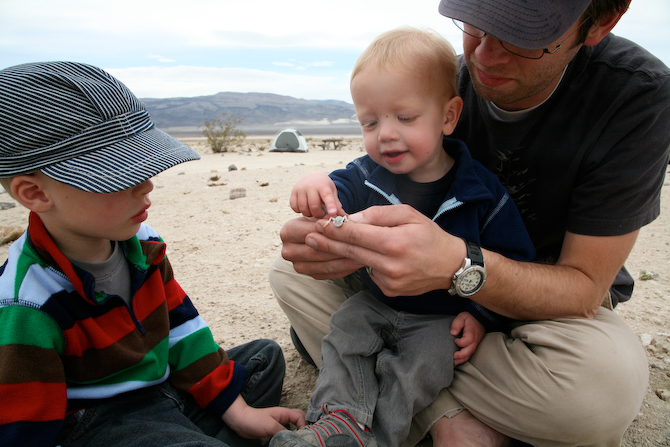 A few weeks ago I attended a GreenTeacher webinar by Brad Daniel, Professor of Outdoor Education and Environmental Studies at Montreat College. The webinar was entitled Outdoor Teaching Mistakes. The aim was to help participants become better outdoor educators by presenting and discussing a variety of mistakes made by those who teach in the outdoors.
It was a good refresher for me as an educator… and yet I couldn't help but start to apply this to me as a parent. What mistakes do I make while trying to 'teach' my kids in the outdoors? And by 'teaching' I mostly mean 'being' in the outdoors, and trying not to miss those teachable moments.
Note: Not all of these suggestions for fixing common mistakes have to be incorporated in every outdoor outing, but they are certainly things we should consider in varying degrees as we try to teach our kids the importance of being outside.
1. Silence your cell phone
It's hard to resist the urge to answer every call or text, even when outside. But each one you respond to represents time in which you pull yourself in and away from the outdoor world–each one represents time missed in the outdoors with your kids; time that would be perfect for showing them the wonders that exist without the use of technology. When I see a status update declaring "out for a hike with my kids", it makes me wonder… If you're on your smart phone, what are you showing your kids that you value? How many teachable moments are you missing?
2. Accept distractions
It's easy to be frustrated by slow kids on the trail, but for us it's usually because they found something too cool to keep walking past (the other times they are "tooooo tired"). While this can be aggravating for someone with an end goal in mind, it's great for kids. A recent study showed that kids are more likely to be interested in something they find themselves. Accept the distraction, it usually turns out to be a pretty good teaching moment.
3. You don't need to be an expert
In fact, even if you are an expert it's likely that your kids are going to ask you a lot of questions you don't know the answer to. Don't ever pretend you have all the answers, it's ok to say "I don't know".  In fact it's a fabulous opportunity to learn together, and teach your kids HOW to find answers to their outdoor mysteries… start by saying "I don't know, but how could we find out?".
4. Allow for unstructured time
Last week the boys and I set off to do a two mile loop at a nearby nature park. We made it about 100 meters before they found a dirt hill that needed climbing. We spent the next two hours on that hill. Up and down the hill, sorting different types of rocks, identifying critter holes, having rock throwing contests, etc. It was the perfect unstructured afternoon. I just sat on a rock, took in the sunshine and participated only when called upon. They had a blast (so did I).
5. Encourage reflection time
Bring along a nature journal, some paper and colored pencils, a blanket to lay on, etc. Just because you're outside doesn't mean you have to be moving. Show your kids that the outdoors is not only a wonderful place for exploring and getting exercise, but also a place you can go to think and observe (we've talked about the observing part before).
6. You don't always need 'A Plan'
While there are certain measures you should take to be physically prepared (food, water, essentials), you don't necessarily have to do a whole lot of 'planning' just to get an outdoor experience. Even if your intent is for an outing to be educational, let your kids be the guide. Let them lead on the trail, see where they go and when they  decide to stop along the way.
7. Be on alert for teachable moments
As you can see from the previous ideas I'm all for slowing things down and looking for those natural history sort of moments, but nature has so much more to offer. Don't just keep your eye on bugs and trees, look for ways to teach outdoor skills and life lessons.
What did  I miss?