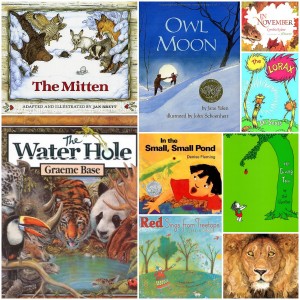 How many of you are familiar with this scenario:
It's bedtime. Â Pajamas are on, kids are clean (enough), and last sips of juice are done. Â It's time to read a book or two before the kids are off to the Land of Nod and you are off to watch the Walking Dead. Â They pick out three books for you to read them and lay them ceremoniously before you.
"What was that noise?" asks your little one.
"What noise?" you say.
"That horrible whining groan I just heard come out of your throat. Â And why is your face all pinchy?" Â they ask.
Because laid before you are three boring, silly, horribly unentertaining books, picked up by you on a whim the last time you were at the library book sale. Â Books you've regretted ever since. Â Books your child, for some inexplicable reason, loves. Â We feel your pain. Â Especially the pain that comes from finishing one of these offenders only to hear your young one say: "Again!".
We humbly present to you our top ten most favoritest read-aloud kids books. Â We picked books that are as much fun for you to read as they are for your child to hear. Â Elaborate and entertaining illustrations, carefully constructed rhymes or lyrical prose, and themes that focus on the natural world. Â These are the sort of books that you finish and slam shut with some flourish, wanting to say 'aaah, that was good'… and then wait (hopefully) for that tiny voice beside you: "Again!". Â Many of these are books that a beginning reader can follow along or read to you.
1.  Owl Moon by Jane Yolen For ages 2 to 6 or so, this is the simple story of  a little girl and her pa who go walking in New England on a wintery night.  They see lots of creatures in the shadows, and pa calls to a Great Horned Owl.  This is one of my nieces favorite bedtime stories, and she loves to imitate the owl calls.
2. Â The Lion and the Mouse illustrated by Jerry Pinkney. Ages 2 to 5. Â Not an original story, and not really a story focused on the outdoors, but this particular version, with its beautiful illustrations of the Serengeti, is my favorite telling of this old fable.
3.  On the Day You Were Born by Debra Frasier. Ages 2 to 5.  I love the idea behind this book, which centers on the natural events happening on the Earth on the day a child is born.  It conveys perfectly the balance between the enormity of the natural world, and the wonder that is a tiny babe.  Beautifully illustrated and well-written.
4.  The Mitten by Jan Brett Ages 2 to 5.  And old folk story from the Ukraine, this is the story of a lost mitten, and the creatures who live in it to stay warm all season long.  Like the Lion and the Mouse, there are many tellings of this tale, but this is my favorite for the illustrations.
5.  The Lorax by Dr. Seuss. Ages 3 to Adult.  I know, I know, this entry is sort of 'duh', but it would be wrong to leave off this story, with its wonderful pictures, and important message.  Leave it to Dr. Seuss to take a serious moral and make it whimsical and entertaining… without diminishing its importance.
6.  Red Sings from Treetops by Joyce Sidman/Illustrated by Pamela Zagarenski Ages 4 to 8.  I am delighted by this one, which I only just discovered!  It tells the story of the seasons through their colors, in language that is both lyrical and informative.
7.  The Waterhole by Graeme Base. Age 3 to Adult.  First off, let me just say that I am a fan of every book Graeme Base has ever done.  They are beautiful and entertaining to look at with more on each page than the eye can absorb in one sitting… you can read a Graeme Base book three times in a row and see new things each time.  This book is a counting book, involving animals from all over the world that come to share a watering hole… which grows smaller and smaller as time passes…
8.  In November by Cynthia Rylant/Illustrated by Jill Kastner. Age 4 to 7.  I like this book because of the feeling it evokes in the pictures and story, perfectly capturing the mood of early winter, when animals hibernate and friends spend time indoors together.  Focusing on only one season, this book is a gentle and easy book for kids who are learning to read.
9.  The Giving Tree by Shel Silverstein. Age 4 to 9.  The older I get, the more meaningful this book is to me.  Is that strange?  This book is simple and poignant–not so much about nature at large, but about the relationship between a boy and a bountiful tree.  I love the passing of time in this book.  The message is subject to some interpretation, but to me the message is about how easy it is to take, and how careful we must be–especially with things like trees.
10. Â In the Small Small Pond by Denise Fleming. Ages 2 to 6. Â A wonderful introduction to pond life through the seasons (from the little things, to the big geese), complete with lively pictures, and wonderful rhymes. Â There's actually another of these that I like called In the Tall Tall Grass.
A few others worth mentioning:  13 Moons on Turtle's Back which combines Native American folktales with the changing seasons and the cycles of the moon, Red Leaf Yellow Leaf which goes through the life cycle of a sugar maple–the pictures are very unique, and the book is informative without being too technical, and don't forget also the Song of the Water Boatman, which we featured a few months ago!
We welcome any additional suggestions you may have for nature-ish books you can read aloud to your kids… reader Kristal (you may remember her as that mom) suggests Roxaboxen and the Raft; Josh adds Big Night for Salamanders.  C. Wilson suggests Stopping By the Woods on a Snowy Evening.
NOTE: When we started this post, the idea was to put books for all ages in one post, but the list became long and unwieldy. Â So we've broken it into three posts (beginner, intermediate, advanced) to be published over the next few weeks. Â If your kids are too old for the books posted here, hang tight! Â We'll have more appropriate ones up soon!