I often feel the impulse to head out for an evening picnic dinner, ever since Melissa first suggested it on her blog back in May. Last week I was feeling a bit more picnic-adventurous than usual…

My plan was to pull the kids in the sled up the Tahoe Rim Trail, watch the sunset over Lake Tahoe while we cooked dinner, and hike back down with headlamps. The first part of my plan went beautifully. We got there in time to see the sunset, we cooked a delicious pot of mac'n'cheese, followed by a couple cups of hot cocoa, and the kids had a ball crawling all over the rocks.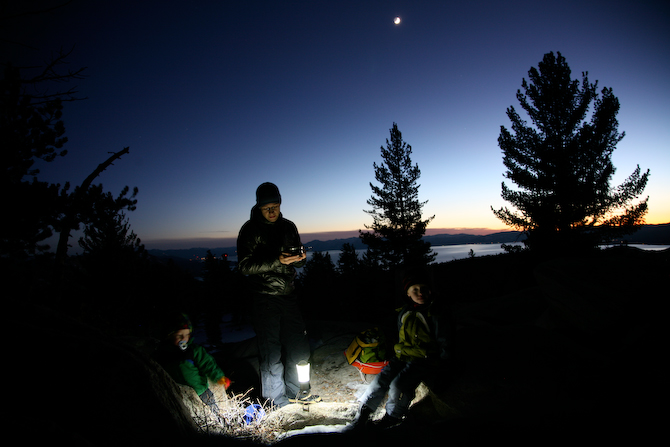 Soon after dark we decided to head back down the trail. Well, let me rephrase that, we headed back down 'a trail'.
We didn't notice for quite awhile that we were on the 'wrong trail'. I suppose we were just so occupied trying to keep our 2-year old in the sled while also trying to keep him from making coyote sounds just to scare his older brother. His older brother on the other hand was pleading to get back to the van so that he could get in his car-seat and go to sleep. He was "sooooooo tiiiirreeeedddd". As soon as we had a minute to think, we started to noticed a few things.
We definitely should have been back to the van by now.
We were walking up hill, and at no time during the hike back 'down' should that have happened.
The moon was on the wrong side of the sky…
Come to think of it, the sound of the highway was also coming from the wrong side…
We had somehow gotten turned around. It was the craziest feeling. Directionally both Joe and I felt SO SURE we were walking directly northwest, but all the signs were telling us that we were in fact walking southeast. How could our gut have been so wrong?
I thought about panicking for about a half a second, then I just got kind-of excited; I had a puzzle to solve. Besides, I had no reason to panic, I had my Olivia bag (with extra emergency blankets). So IF the worst-case scenario happened and we had to stay the night in the woods, we would have been fine.
Unfortunately that bag lacked the one thing I really needed at that moment, my compass. Fortunately I had one on my phone. Unfortunately it took us about 20 minutes to actually trust this 'fake' compass; but as soon as we did the math, we realized it had to be pointing the right direction. We followed that blessed iPhone directly back to the van.
Our predicament was pretty easy to get out of, but there was that moment of panic. A moment when we realized we were in unfamiliar territory, and that we had no idea where our vehicle was. So, a few tips to remember when your lost at night.
Don't panic. Leave that to your children, and if they panic, give them more suckers.
Stop for a moment. Take a drink, a deep breath, and realize that nothing is actually bad just because you don't know where you are. Get your brain working normally before you try to figure out how to get to where you really want to be.
Think about where you are on a map. Even if you don't have one. Draw one in the dirt or snow if you have to. Add landmarks and anything else that may help. Which direction did you walk to get where you're going, which direction do you need to go to get back?
Orient yourself. Find the north star (unless your down in the trees like we were), or try to orient yourself with a landmark. We knew the moon was in the southwesterly part of the sky when we headed back to the van. Therefore we could use that info to help orient ourselves.
If your with someone else make sure that one of you thinks about where you're going. Let the other person deal with the kids (i.e hand out suckers and make up knock knock jokes).
Be prepared, even if you think you don't need to. We thought this was an easy-in-and-out trail. I've been on it a lot, it's popular… I just never stopped to think about the fact that because it was snowy there would be trails going everywhere and I would happen to get on the wrong one at night. You never know.
Don't forget your compass. Pull it out right when you start your hike: which direction are you headed? I can assure you, that the very first thing I did when I got home was put my compass back in my bag.
Anyone else been lost in the dark. This was a first for me, did I miss any tips?
P.S. I still highly recommend the picnic dinner. And you know, turns out Ari loves telling people about how we got lost…