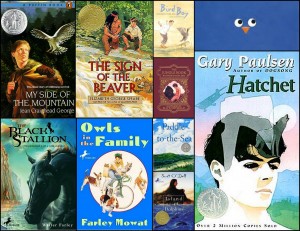 It's time for the second installment of outdoor and nature books for children! Â Unlike the first list, this list is books that kids can read to themselves, or that you can read together on long car rides; much like the first list, these are books you (and your kids) will enjoy reading. Â Many of these books are ones that I read as a kid… ones that I could not put down, and thought about for weeks afterwards. Â These are the books that made me love reading.
It's interesting how the subject of outdoor/nature books changes as the audience's age-range changes. Â In the list of books we posted a few weeks ago of books you can read to your child, there seemed to be a focus on natural observations–noticing the changing of the seasons, enjoying a winter walk, the animals that live near a water hole. Â As kids age, the books about nature start to focus on surviving in nature–the emphasis changes so that it isn't so much about appreciating nature, but using it. Â This isn't all intermediate nature-ish readers, but many of them. Â I would be interested in your thoughts on why… Â I threw in several books about animals, another theme common in newer as well as classic children's stories.
And now, to the list!
1. Â Bird Boy by Elizabeth Star Hill. Â Age 8 and up. Â This is the story of a young boy in China who is given the responsibility of raising a baby cormorant. Â While not the most compelling book to read, the fact that the story takes place in a land so far away makes it enjoyable and interesting to younger kids. Â And I love cormorants, so that makes it an easy one for me to like!
2. The Jungle Book by Rudyard Kipling. Â Ages 7 or 8 and up. Â There are hundreds of editions of this book, but I like this one for the interesting illustrations which were created around the turn of the century by two twin brothers. Â The snake drawings alone will take your breath away! Â It is a big and heavy edition, which gives it a sense of solemnity that a child can enjoy. Â This story of jungle life manages to anthropomorphize the animals without ever becoming ridiculously cheesy. Â And Kipling was a master poet–his interspersed poems are delightful and entertaining.
3. Â Hoot by Carl Hiassen. Â Age 9 and up. Â In contrast to the last two books, this is a more modern and quirky story about a boy, the friends he makes, and some burrowing owls living in an abandoned lot. Â There is a clear environmental message in this book, mixed in with humor, and a star character with whom many elementary school kids can relate.
4.  My Side of the Mountain by Jean Craighead George.  Age 9 and up.  How I loved this book as a child–heck, I still love this book.  I wanted so badly to be Sam Gribley (the hero of the story).  I drew pictures of the hollow tree in which I would live.  I went to bed imagining what it would be like to have a pet raccoon.  I checked out every book on survival and Native Americans that I could find.  This is truly a fabulous story.  (And if you like that one, check out  Julie of the Wolves, also by J.C. George)
5.  Owls in the Family by Farley Mowat.  Age 8 and up.  Mr. Mowat has several books that are fun for children to read, but this is one of my favorites.  This is the story of three boys in Canada who endeavor to raise some owlets, and the trouble they cause.  It is hilarious, and I remember reading it and literally laughing out loud… and then running to find my mom so I could read it to her as well (sorry mom).
6.  The Sign of the Beaver by Elizabeth George Spear.  Age 9 and up.  This is an entertaining tale about what it would have been like to survive in New England in the 1800s.  It is also a story of overcoming prejudices and the value of friendship.  I loved this story for the adventure as  a kid, but I loved it more for the story of two boys from different worlds becoming friends.  Highly recommended.
7. Â Paddle to the Sea by Holling C. Holling, Â Age 8 and up. Â This is a wonderful story of a native american boy who carves a tiny boat to go instead. Â The reader follows the toy boat from a snow bank, through the Great Lakes, past saw mills, shipwrecks, and all the way to the Atlantic. Â Children are subtly introduced to the geography of the St. Lawrence river, watersheds, and the many ways we use
8.  The Black Stallion by Walter Farley.  Age 9 and up.  I actually saw this movie before I read the book, but the book was wonderful!  The vivid and well-done descriptions of Alec and his horse getting to know each other on a deserted island are marvelous and will make any kid dream of being shipwrecked.  And the stories of the races with the Black, this wild, nearly untamable beast, are very exciting!bodies of water.  Fabulous book!  (I have this vague recollection of seeing a movie of this in school once, too…)
9.  Island of the Blue Dolphins by Scott O'Dell.  Age 8 or 9 and up.  Here is another compelling survival story of  a girl who lives on a deserted island for 18 years, taking care of herself and learning to cope with a life of solitude.  I remember reading this book in third grade at the beginning of the school year.  I remember reading it again at the end of the school year just because I liked it so much.
10.  Hatchet by Gary Paulsen.  Ages 10 and up.  Perhaps this is a little advanced for the intermediate reader (there's a plane crash in it, and a bit about parents being unfaithful to each other), but I read it in fifth grade (age 10) and turned out okay (at least, I think I did).  I loved this story as a child for the adventure and because the writing was good enough to make me emotionally invested in Brian (the 13 year old trying to survive in the Canadian wilderness after his plane crashes).  I like this book as an adult because the lessons Brian learns in this book are ones that I want my children to learn someday.  The importance of patience, thinking before acting, and not giving up when things are difficult.
There are many wonderful books that we didn't list here; some we'll be including in the last list: Â our advanced reader books about nature. Â Others we probably haven't read. Â What favorites of yours did we miss?