A few months back, a friend of mine posted this picture on her facebook account, it left me inspired.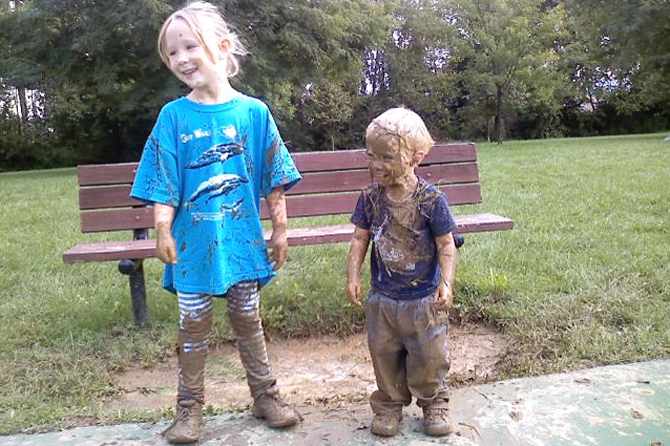 I fell in love with it immediately.  To me the picture says don't be too uptight. It says nice clothes are wasted on kids.  And it says it's okay to be that mom. I think of this picture all the time, and it reminds me not to stand in the way of my kids' bliss, simply because I don't want to deal with the dirt.
Thanks for writing up your story, Kristal. This is one trip to the park your kids will never forget!
It was a beautiful sunny day after a couple days of rain. The goldenrod was blooming and school was in session, all reminders that our play time in the sun would soon be getting shorter and colder. I was feeling the need to squeeze in every last bit of sun-basking and park-play possible.
We met some friends at the park where the kids rode bikes on the basketball court and played on play structures. Doodle (my daughter, nearly 5) kept eyeing the small mud puddle near the bench. She even stepped in (barely) a couple of times, and I called her off, telling her that if she got muddy we'd have to leave.
Seemed reasonable to me?
More playing and running, more eyeing the puddle. Finally Doodle was back in the puddle. Not splashing, just standing. Roo (2 year old son) got in too. Then, before I could utter my warning, they started stomping. "Doodle!" I exclaimed, preparing to pull them out of the puddle and leave the park. But then I heard them laughing.
They were having a lot of fun. Getting a little wet, sure, but this was the first unbridled happiness they'd shown at the park that morning. I decided there was no harm in a little splashing mud. I looked at a mama friend who was there with us, trying to gauge her reaction. She looked at me with a smile and said "well, they're having fun, right?"
They were definitely having fun!
I realized then that we had no post-park obligations and while it would be easier for me if I pulled them out of the puddle now, they were having fun, enjoying being outside, and not hurting each other or fighting. I decided the minor inconvenience of laundry would be worth the memories and overall happiness gained from mud play. I could relax a little, not worry what other moms would think, and let my kids have fun.
Besides, didn't I love playing in the mud when I was little?
So I let them play. They started squishing the mud into piles with their hands. Their friend, reluctant to get dirty, picked clumps of grass for them to cover in mud. Enough mud-laden grass clumps were made, and my kids started throwing them at each other. By this time they were already pretty muddy so it seemed silly to pull them out in an attempt to keep them clean. I made a "no mud in your brother's face" rule, but otherwise didn't interfere.
While keeping one eye on the mud monsters and chatting with my friend I started to notice the looks of mixed amazement and confusion from other children watching mine while being told to stay out of the mud. The moms' looks seemed to reflect a general "Oh. My." at my muddy kids. I was that Mom. The one who lets her kids get ridiculously, hilariously muddy in the one small mud puddle at the park while watching, smiling.
Was it so bad to be 'that mom'? No, I decided, not really.
When the kids finally tired of splashing, throwing and wallowing in the mud I had to clean them up a bit before heading to the car. Fortunately this park had a clean bathroom nearby, so we used the sinks and some paper towels to clean mud off of their arms and faces. I then stripped them down, bundled all the muddy clothes in a big armful and hustled them to the car while they chanted "naked! naked!" all the way. A bath AND a shower later they were squeaky clean again. I hosed the clothes off in the front yard then washed them right away. I'd prepared myself for major stains on Doodle's striped leggings but they came clean.
There were no lasting negative effects from our 20 minute mud session at the park, and many good effects: happy kids, fun memories, and a more relaxed mama. All thanks to a small mud puddle.
-Kristal
Have you ever been that mom? Tell us about it!