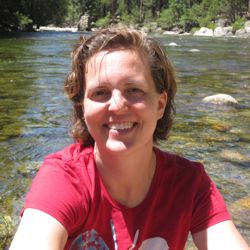 You may not think you know who Debi is, but if you click on the links found in many of our posts, you're sure to have come across her blog at least once. It's one of my favorites. Want to know why? Simple:
Debi's blog reminds me that I don't need to plan big grandiose adventures all the time in order to instill an appreciation for nature in my kids. It can come from the little things I choose to do every day. It can come just by making an effort to be outside, even if just for 15 minutes, every day.
Her blog is full of those simple little daily ideas (well, and a few grandiose ones…)
Thanks for doing the interview Debi, and for taking the time to create the amazing resource known as Go Explore Nature.
Quick note: Debi has two adorable sons, referred to here as the Big and Little Explorers.
1. Where did you gain your love for the outdoors? Was this something you grew up with (and if so, tell us about your upbringing), or something you stumbled on later in life (and if the latter, tell us the story!)?
I grew up in the city but was fortunate enough to have access to an enormous outdoor space in our backyard. I never thought twice about being outside. Most afternoons, I played in the dirt, climbed trees, picked boysenberries off our vines (or tried to sneak pomegranates!) and played Hide and Go Seek with my older brother. We also rode our bikes everywhere.
Beyond our backyard, there was our family cabin in Yosemite National Park, where we spent two weeks every summer. We hiked, swam in the river, rode horses, hung out doing nothing and always made tons of friends. Believe it or not, at the time I actually hated our summer trips to Yosemite; being away from my friends seemed like torture. But when I left home for college, it didn't take long for me to miss the place, and the slower pace of life I had experienced as a kid.
Of course now I try to get to the cabin as many times a year as possible – and always at least two weeks every summer. It is here that I seek solace when life presents its biggest challenges and where I go to slow down and find reminders of what's most important to me. I hope my kids come to love the place as much as I do.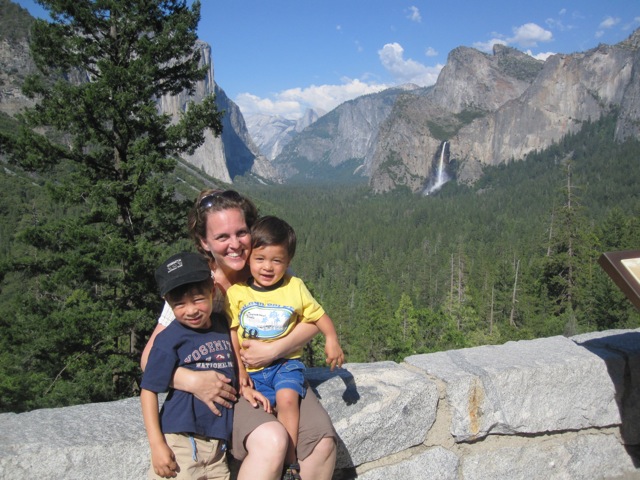 2. How has having children changed how you see the outdoor world?
I'm much more passionate about spending time in nature than I was before having kids. I took it for granted that everyone spent as much time outside as I had growing up and wanted the same for their children. Once I had my own kids and met other parents, I started to see how people were prioritizing not just their family time, but also their kid's activities.
What I discovered was that spending time outside isn't really a priority for people, especially by the time kids enter elementary school. Either kids are in full-time after-school care (because both parents work or there is only one parent in the household) or they're involved in an array of after-school activities intended to enhance their social, academic and physical well-being. There's simply no time to be outside.
And yet The Big Explorer isn't unique – he definitely needs down time after hours spent in the classroom. Spending time outside gives him a chance to breathe in fresh air, get a complete change of scenery and just be. For The Little Explorer, it's the chance to run free that makes his time outside so vital.
It was only recently that I began to realize just how important all our outside time is. The Big Explorer (age 7) started talking about how we should go pick up trash at a local state park so that it would stay beautiful. He discourages his friends from feeding wild animals because he knows it's not only dangerous to humans, but to the animals as well. I never sat down and told him these things – he learned them together from our time outside.
Which means that if our children aren't spending time outside, they aren't learning to appreciate it. To love it. To understand their place in it. To want to protect it for the future. And that terrifies me.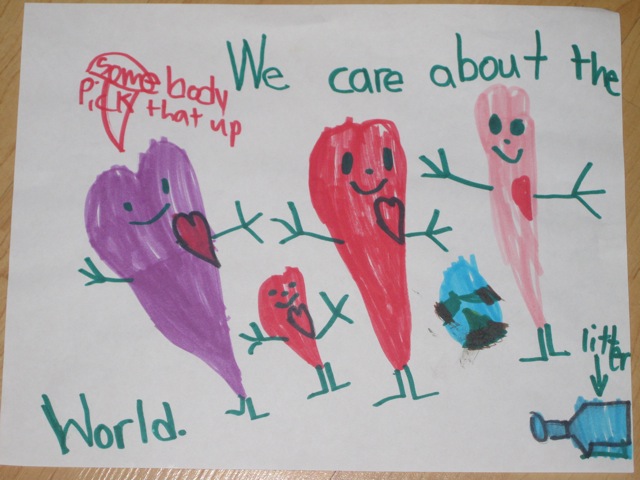 3. Tell us about a day in the life of Debi and The Big and Little Explorer. How do you strive to incorporate time outside every day?
With school (and preschool) now back in full swing, making time to get outside every day is especially challenging. We keep after-school activities to a minimum so that we have more free time. Even so, during the week, we usually don't have a chance to head outside until late afternoon.
I'll often remind the kids as we're pulling into our driveway that they need to head outside for at least 15 minutes. The idea here is just to get us out the door; the kids usually stay there once they overcome any initial resistance. If there's any complaining (and there often is), I offer up some ideas for something simple and fun we could do, like blow bubbles or read under a tree.
Yesterday for example, we grabbed some chalk and drew all kinds of silly creatures in our driveway. The kids got bored after a few minutes and moved on to a huge pile of dirt currently living in our driveway, where they wound up playing for more than an hour. I literally had to pull them away so we could sneak in showers before dinner.
In addition to hanging out in our backyard, we also like to explore nearby nature. One day a week, The Big Explorer gets out an hour earlier than usual and I reserve these days for "special adventures." Not only are the kids always excited to see where we're going, but we don't have to contend with weekend crowds.
On weekends, we take it easy. There's usually time for us to get outside as a family, whether for an outing at the park, a picnic or a day trip to go apple picking.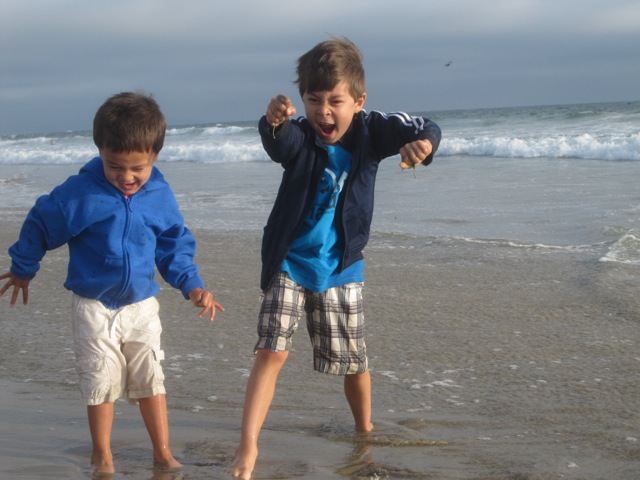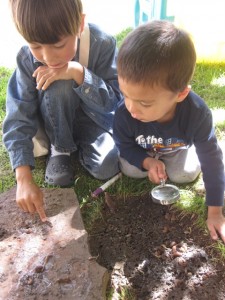 4. Why do you think it's so important that kids get outside every day, and what do you think your kids gain from that experience?
I think a lot of people see nature as something they have to go to – a place far away in the mountains. When kids get outside every day and have the chance to discover nature in their own backyard, they might not feel so disconnected from it. There is so much waiting to be discovered right outside your own back door, whether you live in the city or the country.
I also think that spending time outside every day gives kids a chance to be kids; to take a break from the unreasonable demands placed on them today. Left to their own devices, kids have a chance to do what kids should do – make mud pies, dig for worms, have stick fights, ride bikes and do whatever other things they might dream up.
When kids spend time outside every day, it becomes a part of their routine. My kids don't think twice about taking a walk, working in the garden or just playing in the backyard. We go on bug hunts, watch the clouds and chase butterflies. We look forward to rainy days because that means there will be plenty of puddles for jumping.
I can't tell you how much it warms my heart when my 3.5-year-old begs to go outside for a walk or when my 7-year-old talks to the crows. The outside world has become part of their world, and that means they want to share it with friends, protect it and spend time in it.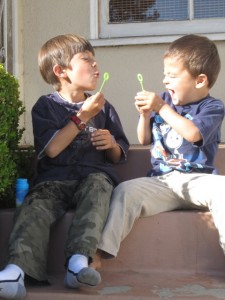 5. What would you say is the biggest obstacle to getting outside with your kids, or getting your kids outside on their own, and how do you overcome it?
Hands down, the biggest obstacle to getting outside every day is lack of time – at least during the school year. We usually only have a couple of hours between school pickups and sundown. Throw in homework, dinner and whatever else life might toss your way and there's not usually much time.
The best idea I've had for overcoming this obstacle is setting realistic expectations. Instead of trying to spend an hour outside every day, shoot for 15 minutes. Often, the biggest challenge is just getting outside the door. We also keep it simple, going bird watching in our backyard or digging in the dirt.
We also "sneak in" outdoor time whenever we can. Time and weather permitting, we might walk to school. Or maybe we head to a park one afternoon, take a play date outside, bring favorite toys outside, and read or do homework outside.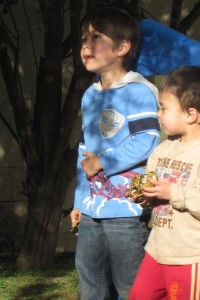 6. What are your five favorite things-to-do/memories-of outside with your kids?
It's really difficult to recall specific moments that stand out because each time we're outside our experience is unique. I enjoy any time we are in Yosemite, and any time the kids are playing outside in nature with no guidance from me. By "no guidance," I mean times when the kids come up with their own activities and go to magic places full of wonder. These are moments I wish I could hold on to forever.
So as not to disappoint, here are five favorite memories of my time outside with the kids:
The first time The Little Explorer hiked without the baby carrier
Seeing the joy on The Little Explorer's face as he runs free in nature
The first time The Big Explorer flew a kite all by himself
The first time The Big Explorer saw a hummingbird up close at the feeder in our backyard
Watching the kids play in mud (without fighting!)