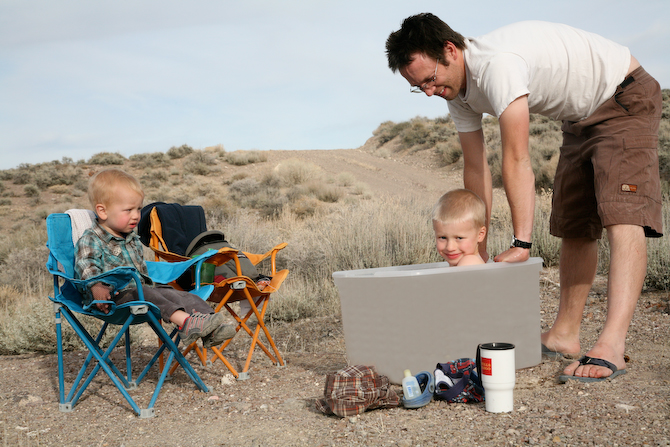 It's been said that one of the major obstacles of camping with kids is how to clean them up at the end of the day. While I don't have any magic formula for keeping kids from getting dirty when camping (since playing in the dirt is kind of the point)Â I have learned a thing or two about cleaning them up so you don't have to put a filthy kid to bed in the tent.
Usually you can get away with a simple wash down, #1 or #4. But then there are those occasions when your child's skin color has changed dramatically, they stink, and/or they have sand and poofy dirt in places that just seem uncomfortable. This may or may not take a few days to accumulate. For those occasions you may need to bust out #2 , #3 or #4.
1. A washcloth and a pot of warm soapy water go a long way.
Our nightly ritual when camping consists of warming up some water with a bit of camp soap. Each kid gets his face, hands and feet washed before pajamas and bed.
2. Our mobile kitchen also doubles as a mobile bath tub.
On our way home from a few days in Death Valley we realized we would't make it home before bed time and we really didn't want to put them in bed with 5 days worth of Death Valley dirt, dust, sweat and sand. So, somewhere in the Mojave Desert we pulled off on a dirt road and found a nice private spot where we could convert the kitchen tote into a tub (see awesomely photoshopped photo above). We emptied our plastic tub, boiled water in our two biggest pots, dumped the boiling water in the tub and added some water from our 5 gallon jug into the tub until it was the perfect bath temperature (note that if it's cold and/or windy you can put the tub in the tent).
We've stuck with this method ever since.
3. Solar shower.
Most of our friends actually prefer the solar shower method. Set a bag of water out in the sun all day and voila, a quick shower for the kids as needed. Our kids usually just scream the whole time their getting hosed down, but when they grow out of the mobile tub they'll have to learn to deal with this method.
4. Collapsable Bucket.
A friend of mine had a collapsable bucket custom made from Jack Plastic Welding. He ordered it short and deep and claims it makes the perfect portable bathtub, among other uses…  I'm pretty jealous. Just think, you wouldn't have to empty your mobile kitchen box AND it takes up hardly any space! It's been on my Christmas list for several years now.
5. Camp near a water source.
Unfortunately, since most of our escapades take place in the desert we haven't gotten many opportunities to try this out. But when we have it's worked wonderfully. Send you kids to splash around in a nearby creek or lake at the end of the day and let them do all the cleaning themselves.
What are some tricks you have learned to clean up dirty camp kids?