You may not know Stephanie by her given name. But you may recognize her by her alter ego:  Sage Donnelly's Mom.  Sage is a competitive kayaker, a diabetic, a philanthropist, was recently nominated for Sports Illustrated Kid's SportKid of the Year and is rumored to have the most infectious grin ever seen floating down a body of swift moving water.
Did I mention that she's eleven years old? Â When I was eleven, I was still figuring out how to floss.
IÂ figured that behind an amazing kid like that, there had to be equally amazing parents. I was right.
I'll let Stephanie speak for herself–you'll see what I mean.  But let me point out one thing so that you don't miss it. In the corner, in the background, or somewhere in nearly every picture or video posted here, you'll see a little lime green Jackson kayak.  Those are the parent's boats–in each photo you can see either Stephanie or her husband watching or leading their daughter.  Would that we all had someone in a lime green kayak bearing witness as we challenged ourselves and attempted new and scary things!  Always there, ready to pull us out should something go wrong, and the first to hi-five us when it all goes right.  These guys know what family is all about.
Thank's again Stephanie for doing this interview, and for being half of the equation that raised such an amazing kid.
Oh yeah, one other note. Â Mouse over the pictures for explanatory captions.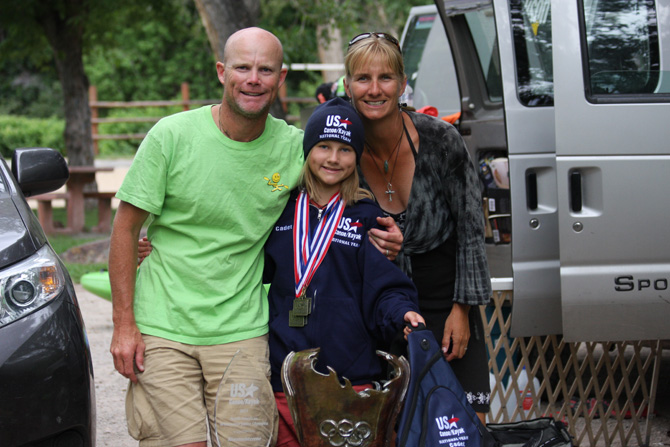 First of all, just curious. We're you involved in outdoor sports as a kid?
I was an avid runner as a kid, competing in my first 10k when I was 6 years old.  I also played soccer, softball, volleyball and ran track.  I loved to hike in the mountains and was very good at catching lizards and snakes in the fields around my house, a hobby my daughter is also involved in!
Of all the outdoor sports, why kayaking? Â What is the appeal for you?
I was always intrigued with whitewater kayaking, but living in So. Cal, I wasn't near any rivers. I met my husband rock climbing, and just before our wedding I went on my first rafting trip on the South Fork of the American with my family (I was 27) and had a blast!  I came home and announced to my fiancee that we were going to learn to kayak for our honeymoon because rafting was so expensive and with kayaking, we could buy the gear and start without further investment.  We took classes in Kernville, Ca. with Kern River Tours and were hooked.  Within a year, we moved to Carson City, NV. and have been on the rivers ever since.  There is nothing  like the power of the water and knowing how to work with it, the solitude and beauty you can't experience any other way, and the incredible people you meet and share the environment with.  It's peaceful and exhilarating at the same time.  As a family, we are also involved in skiing, rock climbing, trail running, hiking, rafting and mountain biking.
Your daughter has taken to kayaking, like you. Â Tell us the story of how she got started, and what role you played.
One of our first baby purchases was an old Topo Duo (tandem) kayak.  We loved being on the water together, and couldn't imagine not sharing it with each other while our child grew up.  We wanted to instill in her our love for the river and our family.  Whenever we kayaked, one of us would run a harder section of the river, then we would kayak as a family.  My husband manned the back seat of duo, and I was in my own kayak and I entertained and played with Sage as we floated down the river and enjoyed mild rapids.  We always made sure it was fun, using the appropriate gear and keeping the fear factor as low as possible.  When she was 4, we purchased her first boat, a Jackson Fun 1, and started her on lakes and pools, and by the age of 5, she was boating class 2 whitewater.  We had a few times where we took some steps back and played in the duo for awhile, but she learned to roll when she was 7 and took off from there.  Our second major purchase was a 14 ft. raft when she was 3 and we started doing multi day river trips all over the west as well.
How are you able to travel and train so much? What's a typical week like for your family during kayak season?
We love being together as a family, and had decided to homeschool our daughter before she was even born.  My spouse has a very flexible job with the opportunity to take blocks of time off, and I own my own business and have very dedicated clients who are supportive of my family too. During kayak season, or the "tour," we load our 4 large dogs, cat and school books into our Sportsmobile and hit the road for almost 3 months.  We usually head to Colorado for a month where we hop from river festival to river festival so Sage can get a feel for the feature and practice her ride.  My husband is her major coach and I usually am logistics and it works out very well.  We have traveled as far as Maryland and North Carolina for competitions, as well as most states in the west.
Your daughter appears to be extremely driven–she teaches about water safety, donates to charities, talks about diabetes, and excels in whitewater sports! Â She's quite the inspiration! Â As her mother, watching her in these endeavors, where do you think her motivation comes from?
I believe Sage was born to just be a caring person.  Even as a child on play dates, she would always involved her friends younger siblings or new kids in the area and never left others out.  Sage is very self motivated and truly loves the river and being an outside athlete.  She enjoys being competitive, but more importantly, wants to share her enthusiasm for her sports with others so they can experience what she so loves. She also works hard to improve herself in every way she can, and can be a little too driven sometimes.  We actually have to make her take a break and refocus every so often.  Sage sets her own goals, and we simple remind her of those goals and give the support needed to achieve them.
What's it like watching your 9 year old little girl run a 20 foot class 4 waterfall? Do you feel more excited, proud or nervous?!
All of the above!  It was actually Sage's idea to run Brush Creek, the creek with the 20 ft. waterfall (see video here), and we knew that she had the skills and it would simply be nerves she had to deal with.  Both my spouse and I have run the the creek before, so we knew what to expect and felt she had the ability to run it safely within the allowable flows that we dictated.  She is excellent at following directions and did exactly as her father told her and stomped it!  I was sidelined due to an injury so I was a spectator which was probably a good thing since I tend to "watch" her instead of do what I need to do to get through a rapid!  The creek is one her favorites!
What advice can you give parents who are thinking of involving their children in competitive sports?
Don't cut corners!  To often we meet people who love a sport but don't want to buy gear for their child because of expenses and growth, or aren't patient enough to give a solid foundation for the sport or skill, and inevitably, they (either parent or child) have a bad experience and no longer want to be involved.  Patients is a HUGE part of getting that foundation.  Both parents need to be supportive and encouraging, and realize there will be good days and bad day, and be ready to take steps back whenever necessary.  Don't "push," but don't accept no when there isn't a good reason.  Most of all, make it positive, fun and loving!
Note: If anyone is looking for recommendations on gear/clothes/etc, Stephanie has suggestions. Contact me and I'll hook you up with her email.
For more videos of Sage doing her thing check out:
Running the Big Bend Dam at 9 years old.
A compilation of some of Sages runs and surfs in 2009.
Sage looping in CO and Junior Olympic competitions and practice. Dont' know what looping is? I did it on accident once. Watch the video, she's amazing!
If you want to keep tabs on Sage go to her Facebook Page or check out her website.