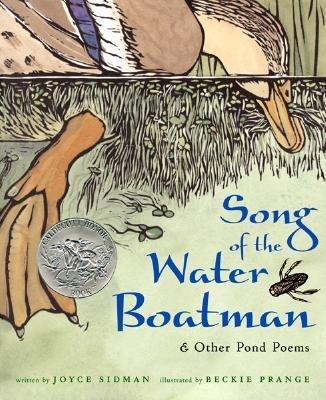 Listen for me on a spring night,
on a wet night;
on a rainy night.
Listen for me on a still night,
for in the night I sing.
That is when my heart thaws,
my skin thaws,
my hunger thaws.
That is when the world thaws,
and the air begins to ring…
-Listen for Me (excerpt)
Okay, so many many many kids' books are poetry, but how many of them are poetry that both you and your kid can enjoy? Â (Sorry Dr. Seuss, I love ya', but green eggs and ham? Â You're killing me slowly, painfully, to the gentle cadence of Sam I Am.)
Song of the Water Boatman & Other Pond Poems, by Joyce Sidman is one of my all time favorite kid books. It's one of the few books I never get sick of reading.
Not only is the artwork fabulous (done by woodcut artist Beckie Prange) it also does a wonderful job of introducing your child to poetry while teaching them all about the magical world that exists in a pond. Poems about ducks, beetles, insects, plants and (my favorite) spring peepers.
Each poem is also accompanied with a factoid section, which is actually more like a little cheat sheet for parents. If you're not familiar with pond ecology this section will give you enough information to explain what's going on in the poem. Which also makes this book a good companion to your next macroinvertebrate collecting trip at the local wetland.