**GIVEAWAY CLOSED! Winner will be announced Friday, September 15.**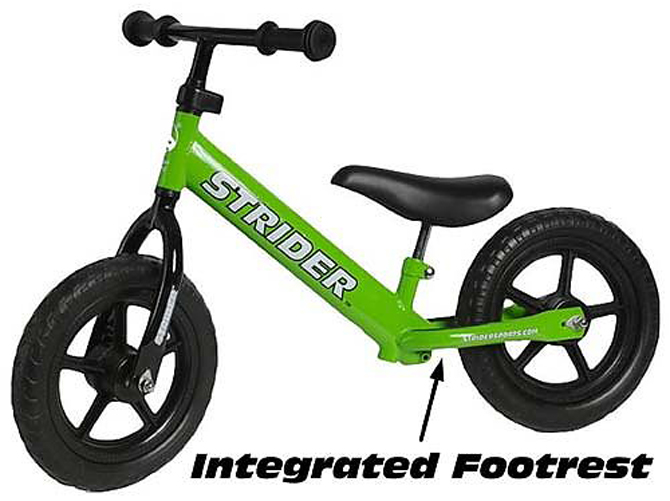 If your fairly new to the site you may have missed a post I did way back in January called "The Power of the Balance Bike". It's such a fine product, I'm pleased and honored to be giving away a strider for our first ever Outsidemom giveaway!
I would love to take all the credit for this, but the giveaway is sponsored by Outdoor Daily Deals, it's entirely their fault you have a chance to win this bike. They're a facebook page that posts one outdoor item every day that you can purchase for 25-50% off. Emphasis on the ONE ITEM a day. They don't drive you crazy by spamming your facebook feed with "deals". They've been awesome to work with, and I highly recommend the "like".
How do you enter my Outsidemom giveaway? All you have to do is leave a comment on the blog. Tell me how old you were when you learned to ride a bike, who taught you,  and whether the experience involved a banana seat.
And, of course, we would love it if you shared this opportunity with friends, but we completely understand if you don't because it lowers your chances. You can always make it up to us by sharing something with them later (wink wink).
The winner will be announced Friday September 16th here on this very blog. Other rules below, check 'em out before entering. Good luck!
Rules:
You must supply me with a valid email address when you enter.
You can only enter once.
My husband can't enter.
Yes, you can pick the color. Colors available: green, orange, yellow, pink, blue, and red. See colors here.
The contest starts now and entries must be date stamped by our server no later than Thursday, September 15, 2011 at 11:59 AM Pacific Time to be eligible.
Alas, this giveaway is open to U.S. residents only. Sorry Canada…
The winner will be chosen using the number generator at random.org.
Winner will be notified by email and will have 24 hours to reply to my notification. If I don't hear back, I'll pick another winner.
Bike will be shipped by outdoor daily deals via UPS or FedEx. Bike will be shipped within 14 days once the winner is chosen.