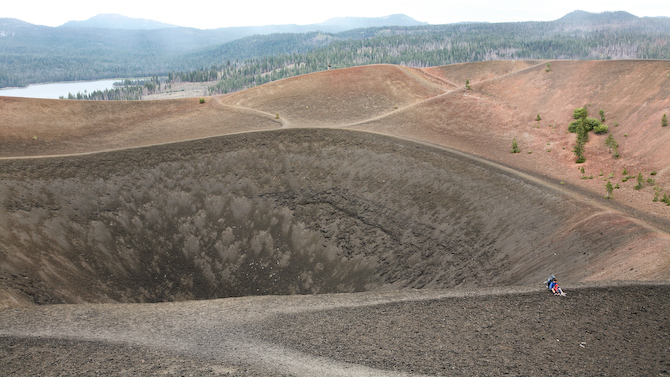 There's a whole list of life lessons that we as parents want to help our kids learn, and it seems that every parent prioritizes this list differently.
The lesson I tend to focus on the most is I can do hard things.  I think this stems from the fact that Ari's first reaction to any task set before him is that he "can't do it".  This concerns me.  Life is full of hard things.  Making decisions, learning a new skill, standing up for what you believe, passing a test, etc.  Life requires a certain amount of perseverance to survive, and an even bigger amount if you want to actually succeed.  I want Ari to know he has it in him.
For this reason I'm constantly pointing out to Ari when he does something that he was convinced he couldn't do.  Fold his own laundry, draw a picture of a train, learn to read, jump off a rock, check the mail by himself, ride a bike, and hike to the top of a volcano.
Yes, a volcano. I've been eying Lassen Volcanic National Park for awhile now, mainly for their cinder cone. It seemed like the perfect hike for a volcano-obsessed 4-year old. You can actually peer down into the crater! Ari was so excited. So pumped to do it. I prepped him. I told him it would be a hard hike. He was ready… Until he hit mile 1.4.
The first mile or so is a very gradual uphill. Not steep when measured by any other human. But my son was thrown out of his comfort zone by the ever-so-slight incline.  Luckily the view of the volcano in the distance at mile 1.2 was enough to get him going again. Likewise, the view of the steep trail at mile 1.4 was enough to discourage him.
It loomed in the distance.  It looked a lot bigger than I had imagined.  All of the sudden he "couldn't do it" it was going to be "too hard".  I'll admit…Joe and I looked at each other like "yeah, I'm not so sure he can do it either."  Of course we didn't let Ari know that. We assured him that it would be hard, but that with every step the top of the volcano would get closer and closer and we could go as slow as he needed.   "And Ari! If we get to the top we can look straight down into a giant crater!!"  Thank goodness for his love of craters.
It was a steep trail indeed. Walking on cinder we took one step up and slid a 1/2 step back.  Ari collapsed on the trail in true dramatic fashion several times. We would rest.  Help him up.  Make up more knock-knock jokes to occupy his thoughts and continue on. There were times when we sorta wanted to let him just give up.  But we didn't.  We couldn't.
He made it.  And I think the view from the top was that much better for the drama of the hike in.  I wish I had a picture of his face the moment he saw that crater.  The huge grin.  The squealing.   Him yelling "We did it!"   All of us running for cover as a gale-force wind threatened to catch us mid-victory dance and throw us straight into the crater.
Thank you volcano, for showing my son that he can do hard things.