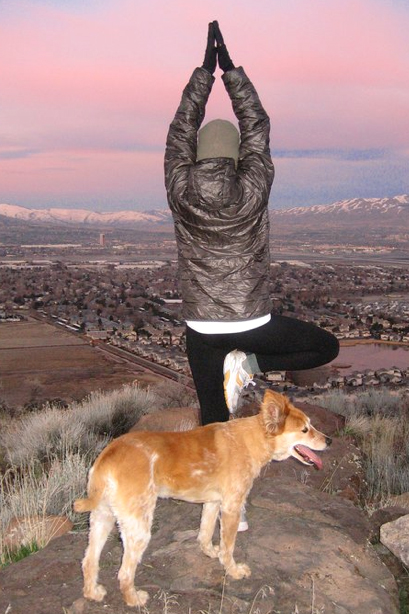 I recall the exact moment I decided I needed reap the benefits of regular exercise. Isaac (my second child) was 8 months old. I was out on a hike, just me, my dog and a head full of thoughts. I was consumed by the idea of figuring out a way to regain control of my life. Being a Mom to multiple children (okay, two) was kicking my butt, I felt like the kid count had gone from 1 to 10. I was pretty overwhelmed.
Then all the sudden, right there on the trail, it hit me. I called Olivia immediately. I recall my exact words: "Olivia! I just decided what I want to be when I grow-up, I want to be the Mom who get's up every morning and exercises before my kids are awake." Of course Olivia kindly reminded me that, with an eight month old, my kids were awake at 8 pm, 11 pm, 2 am, 5 am, 6 am, and 8 am.
Normal sleep schedule Schmormal sleep schedule, I had something to look forward to.
It was a slow process. Eight months to be exact. No matter how much I wanted to get up early and exercise, actually doing it was a whole new ball game. Why it is so hard to do something you want to do, something that makes you feel so good is beyond me.
I can't exactly say I get up "before" my kids all the time, (hard to beat kids who are up by 6am) but ever since January 8th 2011 I've gotten out for exercise at least 4-5 days a week, and usually early in the morning. Depending on the day, I hike up the hill behind my house (photo at top, mouse over for caption), speed walk with weights (just like my Mom did in the 90's), mountain bike, or paddle around at the kayak park. Everything is no further than 10 minutes from my house. I know. I lucked out.
I've always been an active person. I've always hiked or biked at least once a week, but never consistently and never as much as I should have. I can't believe I've lived my life thus far without regular exercise. I know I'm going to sound like an infomercial here, but it seriously changed my life for the better. How? I'll tell you–and let me point out before I start, this is my personal experience–not what I read in Good Housekeeping, not what my doctor told me.  This is really what exercise does for me.
1. Uninterrupted Thoughts
You know how after you have kids it's virtually impossible to have a thought longer than 2 minutes before it's interrupted? When I'm out exercising not only can I let my thoughts explore a topic for up to 45 minutes, but the thought is also clearer, it's like that Mom fog just lifts right off your brain! All my favorite blog posts are thought up during a morning hike.
2. If Only I Ran the World
Because of reason #1 I've solved a majority of the worlds problems. Health care, financial crisis, world hunger, education reform, you name it. I think our congressmen could benefit from a little exercise. I also try to solve problems a little closer to home: How can make learning to read more exciting, how are we going to pay for Joe's root canal, what should I say next time an older lady scolds me for bringing my kids to a museum, etc…
3. Me Me Me
I get ME time almost EVERY DAY! For a whole hour the only person I have to worry about is me. Ahhh, such a refreshing way to start the day.
4. Give Energy to Get Energy
My energy level has increased two-fold. At first I  though I wouldn't have enough energy to get up early AND to be 'on' the rest of the day. Funny thing about exercising, while it's true it takes energy, for some odd reason it also GIVES you energy… Borderline creepy.
5. I Just Keep Going
When I get up and exercise I come home and I just want to keep going. Mornings when I don't get up and exercise it takes me A LOT longer to get going and I end up feeling a bit lethargic the rest of the day. When you don't drink coffee, the exercise regiment is key.
6. Mood Enhancer
Sitting still makes me depressed. Which is why if it was above 15 degrees I got out all winter long. I'm so much happier when I've been exercising regularly. Just ask Joe on this one…
7. Bye Bye Bird Legs
My initial desire to get out and exercise had nothing to do with losing weight. Sure I had a few extra post-pregnancy pounds left but I figured if they came off it would just be an added bonus. You can imagine my surprise when I actually started gaining weight. And my butt got bigger, I was growing out of my pants the wrong way! To this day I still have not lost weight, but I've lost some fat reserves around the middle and gained some tonality in my arms and legs. I'm looking less like a bird every day. (And for the record my butt is shrinking back down to size since I started varying my exercise, I think hiking strait up a hill everyday was giving me undesired butt muscles.)
8. Remind Me Again…
I was always so concerned with getting my kids their Outside Time, that I neglected my own Outside Time. Getting out everyday, inhaling fresh air, feeling the breeze on my flushed face, seeing the world in that morning light, doing something that makes me move reminds me constantly why the outdoors is important.
9. What? I Did it?
It's such a self-confidence booster to actually see yourself get better at something over time. There is a mountain bike trail near my house that I try to bike once a week. It's about 8 miles out and back, up and over a ridge; thus 1/2 of those miles are uphill. When I first started I thought there was no way I would ever be able to bike the whole thing without walking my bike up the last and steepest rocky switch back. Just a few months ago I finally biked up the entire hill without having to get off my bike once (except to cross the creek, which was actually more like a river). I was so proud of myself. Eh, go home, cook breakfast, do learning time, start laundry, vacuum, mow the lawn, juggle dishes in the air, and have the kids out the door for an excursion to Lake Tahoe all in under an hour? Piece of cake! Accomplishing physical goals just makes you feel like you can do anything!
10. Super Mom
I know you're going to think I'm embellishing here, but I really do have more patience with my kids after a morning excursion. I do. Positive endorphins rock.
Did I miss anything? Why do you exercise? Or maybe you don't? Yet. In that case, watch for future posts on this topic How I Used Bribery to get Myself Exercising and Excuses I Used to Stay in Bed: A 15 Year Study