I got an email the other day with the following question.
I feel like I'm at a crossroads with motherhood. I'm a new mom to a 3-month old who is just now discovering the bright, beautiful world around him, and I'm finding he doesn't sleep well outside of his crib lately, but I'm feeling really tied down to our house. How have you managed to be an "outside mom" with little ones who need a lot of sleep? … This is the major prohibitor from us having more of the types of adventures we were used to before parenthood.
Kristen
Boone, NC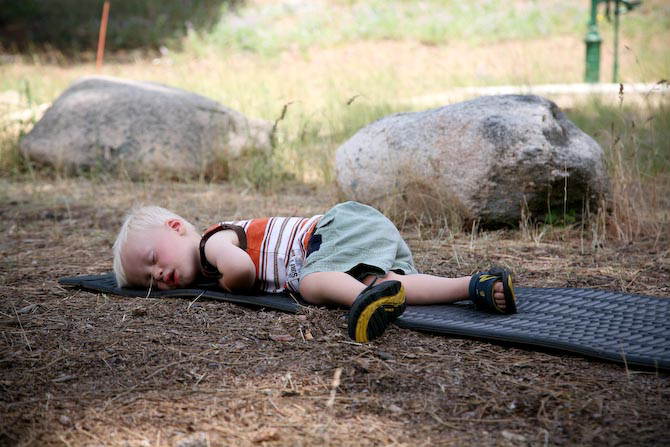 Ah, the Dreaded  Nap. That refreshing time during the day when your little one(s) don't need their noses wiped or their bottoms cleaned. When their cranky attitudes are reset, and, okay, yours is reset too. The Dreaded Nap. That fickle thing that requires the right temperatures, the right lighting, the right blanket, perhaps even the right song. The Dreaded Nap is an art.  And it is a daily-activity that can't be missed, that shouldn't be messed with, and that so impedes being outside for longer than three hours.  Sigh.
Kristen, you are NOT alone. While supervision may be the greatest limiting factor for getting older kids outside, I dare say the nap factor is the biggest prohibitor for parents with young kids. Here is the problem: you want to get your kids outside, you want to get yourself outside, you have a list of places you want to explore, but instead you're sitting around the house going crazy. Why? Because if your child misses nap time they will drive you crazy. Either way, looks like you're going to be crazy?
I'll admit, with child #1 (Ari), especially for the first 6 months, I wasn't a very good example of mother/child mobility. I had some pretty bad postpartum anxiety issues (but we'll save that for another post).  Luckily I HAD to get better at it. Joe and I hit the road when Ari was 6 months old. Joe 'had' to drive around the west collecting data for his dissertation, and there was no way I was staying behind. We did a lot of traveling, camping, hiking, etc that year. Ari had to learn to cope. So did I. Because of this I did a lot better with my second child (Isaac).  But then again, child mobility takes on a whole new form when you have throw an extra kid in the mix.
Below are a few tips.  Some I've tried, others I've only observed and filed away in the recesses of my brain for future use.
1. Drive While Drowsy. Hopefully your child likes his/her car seat; I'm thankful every day that mine do. I often plan so that naps happen during drive time.  Sometimes they nap while I'm driving to our destination, getting in some z's before we embark on an adventure, other times they nap on the way home. Then there are those times when we are away from home  all day (camping or picnicking or somesuch) and the kids need their naps mid adventure.  Driving works. As soon as they fall asleep I pull over, let them nap in their carseats, or transfer them to a bed on the van floor, under a tree, or in the tent. I spend a lot of time sitting in our van, at trail heads, in the driveway, or at a shady spot near camp letting my child nap in the car seat where he's fallen asleep.  I've learned to always have a book on hand.
2. Sleep Walk. This works the same as driving, but it's cheaper, way more fuel efficient, and you can get some exercise to boot. You can walk your kids to sleep (via carrier, stroller, bike trailer etc.) then transfer them, or you can just keep on moving! My kids never slept as long in the pack, but I found it was well worth the slightly crabbier child in order for me to get out, because at least I wasn't as crabby. Last week we took a trip to the coast.  At Isaac's nap time I walked him to sleep in the carrier then propped myself up on a sandbar and watched the waves while he slept, still in the Ergo.
If you only have 1 child, take advantage of the miles you can cover. It's a little harder to get child #2 an uninterrupted nap in the carrier, since child #1 sets the hiking pace now-a-days (i.e. go. stop. bug. go. break. snack. go. stop. rabbit hole. drink. tracks. go. hole in the ground. snack. break. go…).
Note: Methods 1 and 2 (possibly in combination with 6) also work great for kids who are not used to camping. It's not likely you're going to lay your 2-year-old down in this crazy nylon structure they've never seen before and expect them to drift off to dreamland. You might need to start by getting them to sleep in a way that's familiar, and then transfer them (a white noise machine also comes in handy if your in a noisy campground). Or, set up a tent in the living room or backyard and practice prior to your trip.
3. Pre-Plan. Once your child starts to have regular nap times you can plan your day better. For example. Baby gets up at 6am, goes back down for a nap at 10am, is awake at Noon and naps again at 3. If this is the case, during Baby's first nap time (assuming you yourself don't need a nap), get all your stuff ready for the day's adventure. Pack your backpack, eat lunch and put everything in the car. As soon as Baby is awake, feed and go. Spend time up in the hills then come back for nap number 2.
4. Face Your Fears. Maybe it was just those postpartum issues, but when Ari was very little, the thought of him not getting his full nap terrified me. What if he turns into a monster two miles up the trail and I have to hike back with him screaming the whole way? How will I cope with the angry mob of hikers out for some peace and quiet when his racket can be heard for a three-mile radius? Sound familiar? I finally just had to do it. I had to get out. And you know what?  He didn't explode. He loved it–I was happy to be out, he was happy to be out, and we fed off each other's happiness.  I'll admit, letting the nap time routine slide a bit was a lot less terrifying with Isaac.
5. Nap Around. As I mentioned before, Ari had to be portable. He adapted to sleeping wherever and whenever because there was no other option. With Isaac, even though he didn't have to, I tried to make him portable from the get-go. I would nap him in different spots, and I would encourage him to nap in the carrier or car seat. I can't scientifically prove that it worked, but he's a pretty good on-the-go sleeper! I know, I know, if your a child sleep expert your probably cringing. But it works so well with our lifestyle!
6. Portable Beds. My original plan with Isaac was to get him sleeping in a pack-n-play (instead of a crib), and then tote that around wherever we went. It didn't really end up working out for a variety of reasons. Neither of my kids ever slept in a crib, they either slept with me, or in a makeshift bed on the floor. BUT. I have friends who swear by the portable-crib-in-the-tent method.
7. Portable Bedrooms. A friend of mine has a sunshade she uses when we take our kids up to spend a day at the lake. She nurses her four-month-old to sleep then puts her down in the tent for a nap. We had her baby and my almost two-year-old both napping in there at the same time a few weeks ago! Go ahead, be impressed, we were.
8. Beat Down Method. (Added to the original post based on a comment by Brian). Play outside with your kids so hard they can't help but fall asleep the second they're in a pack, in my lap (preferably outside still), or in the car.
9. Explore at Home. If the nap thing gets too complicated you and your child can still get your outside time by staying close to home. Debi at GoExplore Nature has some awesome resources. She has a series on her blog called the Green-Hour Survival Guide, which has all sorts of 15+ minute activities you can do close to home. She also recently did a post called 50 Ways to Explore Nature in Your Own Backyard, and Getting Your Daily Green Hour: No Backyard Required (for you apartment-dwellers).
I feel fairly strongly that Moms can't let the nap factor keep them from getting out.  If they let The Dreaded Nap weigh too heavily on their caring motherly minds, they will never get out. This is especially true if you have, or plan to have, multiple kids. Holy-lotta-years-worth-of-nappers!
This isn't to say you have to interrupt naps every day. I probably interrupt nap time about once or twice each week.
Because, let's be honest, that time when your child is napping is also just about the only time you have during the day to get non-child-related stuff around the house or work-at-home tasks done. It's precious me-time! Just remember–being outside is me-time too, that (I think) is just as important!
I hope something in there helps (sorry I got a bit long-winded). If anything, look at all the cute pictures you can take of kids sleeping outside…
If anyone else has additional ideas. PLEASE, leave a comment! I know there has to be more methods out there.
Disclaimer: I'm not a child sleep expert. Nor am I all that structured. I also feel it is important to mention that while Ari has always loved going to sleep (anywhere), he didn't start sleeping through the night until he was 4.5 years old. Isaac sleeps pretty good; he still wakes up once or twice. But man are they good travel sleepers!