Confession. Back before my brother made me this fancy new blog I had a blogger blog (the semi-private family kind). I originally wrote this post in June of 2007 right after our first post-child, multi-day climbing excursion to City of Rocks in Southern Idaho.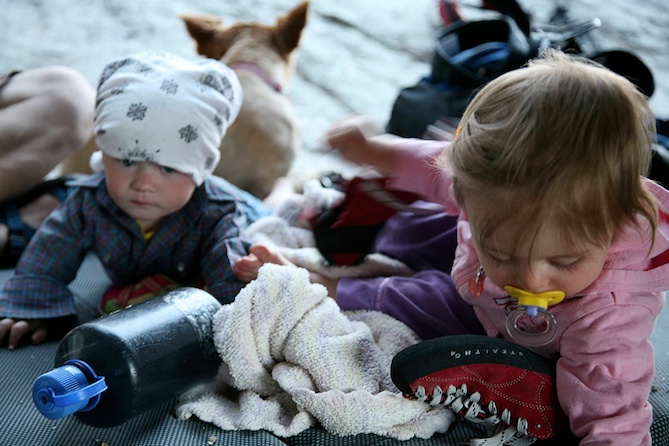 The following is a list of helpful tips and adjustments I found worthy of mentioning.
1. Don't Go It Alone: It's always nice when your favorite pre-child recreating buddies can also be your favorite post-child recreating buddies. It's essential to have that ccomrodory, not to mention the child to adult ratio.
2. New Use for Bouldering Pad: Once used for bouldering this pad is now most effective when used to put your child, along with your child's accessories on at the bottom of a route. Also helps to spread around plenty of cheerios, toys, and extra gear for wallowing in. (see photo above)
3. Expect Fewer Climbs: In one day we each climbed three routes on two walls. Not exactly ideal, but we felt fairly lucky to get in that many.
4. Expect Heavier Loads: Gone are the days of splitting the gear in two separate packs and sauntering down the trail. Now one person carries ALL the gear and the other carries the child and his/her associated gear, which can actually be heavier than the actual climbing gear.
5. You Will Need a Nap: Towards the late afternoon a nap may be necessary as dealing with two kids who keep each other from taking their naps tends to be more tiring than the actual climbing.
6. Baby Gear Comes in Handy: Baby formula cans make great pillows; at least this is what Brian tells me… (see photo in gallery below)
7. Kids Make Cuter Subjects: In the event that you actually find a free hand/moment to take pictures, no longer will they be of adults scaling rock ledges and pulling off stellar moves. Unless of course that climber just so happens to be climbing behind your cute child…
No matter how inconvenient this can be, it's all worth it when you notice that a few routes down there is a Dad teaching this 12 year old son how to lead. It's a beautiful thing.
Remember those first post-child "adventures" ? Glad practice makes perfect. Almost…
Note: For more information on climbing with young children check out Erica at CragMama, particularly her posts on Creating a Cragbaby. She seems to have climbing with a young babe all figured out!