Looking for something fun and a little different to do with your kids this summer? Something that requires little work on your part, is super-cheap, and will provide hours of fun for them? I've got just the thing. Bubbles!
Not just any bubbles either. Really big ones. Tough ones that don't pop if you blink. Like bubbles should be.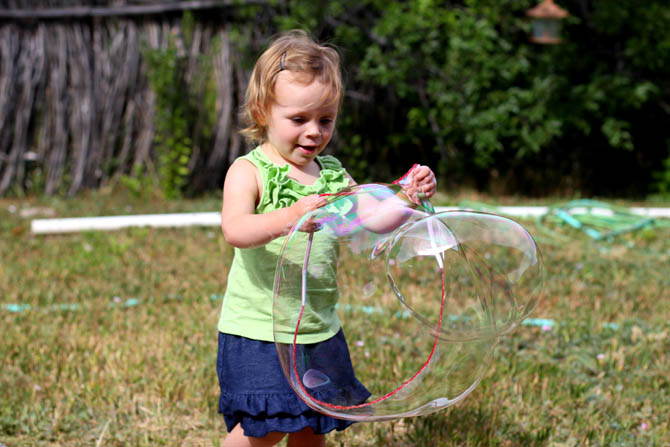 Here's the recipe (Make the solution the night before and let it 'set up' for best results):
1-3 T glycerin
¼ – 1/3 cup dish soap (NOTE:  biodegradable dish soap doesn't work.  You need the stuff with sodium laureth sulfate listed in the first three ingredients)
1 gallon water
On 'bubble day' you'll need a few additional supplies:
Yarn
Bendy-straws (and a rubberband) or clean plastic tubing
Pipe Cleaners
Cookie sheet
Plastic wrap
Clean sock
Container (I like to pour a healthy bit of the bubble mixture into a pie tin, ice cream bucket, or large bowl)
In general, non-windy days are best, though wind can help smaller children who haven't mastered the art of blowing steadily or walking backwards. Â Rinse off your kids' hands before they start playing with bubbles, just to keep the dirt and oil in the mixture to a minimum.
The things that can be done with a bubble mixture are endless, but to get you started, here are a few tried and true tricks (and yes, it's as much fun as this picture makes it look).

1) Make giant bubble-tubes.
Thread a length of yarn (~3 to 4 feet) through a straw (or two) and tie it to itself. Put the knot inside the straw.
Dip the whole length of yarn into the bubble mixture. Try to keep the yarn from twisting into figure eights.
Let it form a film that covers the entire surface.
When you lift the yarn from the water, it will fold in on itself near the bottom. That's okay, as you start to move, the yarn will pull apart on its own.
Move the giant wand forward and watch the six foot bubbles and tubes appear behind you!
With practice, you can even get a giant three foot bubble to float in the air. I testify that it can be done. Here is an instructional on how to make a two-handled bubble wand where your hands don't have to get wet. I haven't tried it yet, but it looks pretty cool!  This site http://bigbubblers.com/ has a great video of someone making ginormous bubbles.
2) Blow the biggest bubbles.
Dip one end of a straw into the bubble mixture til a film is formed, then blow into the other end (slowly).
Giant bubbles will drip from the end and float to the ground.
Curving a pipe cleaner onto itself to create a more typical wand also works.
As you might imagine, the blowing of giant bubbles quickly turns into blowing into the bubble mixture in the pie tin itself and creating a frothy mess. All good fun! It is also fun to experiment with different types of wands. Â For small kids, we've found that using (in place of a straw) a piece of tubing like you use in a fish tank is good, because the little ones who mistakenly breathe in instead of blowing out don't end up with a mouth full of soap.
3) Create a square bubble. Challenge your child to create a square bubble. This requires a little before-hand creation on your part, but is worth the effort.
Cut 12 bendy straws at the point where they bend, save just the short straw pieces.
Thread pipe cleaners through these short pieces. Â The pipe cleaners will stick out either end of the straw. Â Bend at 90 degree angles and thread straw/pipe cleaners together until you've created a hollow cube (see the picture). Â There will be more than one pipe cleaner in each straw.
This cube is flexible, so can be bent in order to completely submerse it in the bubble mixture.
You'll find that the bubble walls collapse in, creating an inverted pyramid on every side all connecting in the center.
If you gently blow a bubble in the center of this (where all the sides connect), you'll find that a square bubble is created.
You can also blow air into the center of the cube when there is a film on each side, and watch the walls bulge out.
4) Make a bubble bounce. A clean sock placed like a glove over your hand (which is oily and makes bubbles pop) can cause a bubble to bounce when it hits.  NOTE:  When you tell your older child to get socks on his hands so he can catch bubbles, don't be surprised if your younger child walks up with shoes on his hands expecting to catch bubbles also.
5) Make a honeycomb. The same principle that dictates the shape of a honeybee's comb dictates the shape of bubbles sandwiched between two walls. You don't have to get into the physics of surface-area to volume ratios with your young ones for them to appreciate the simplicity of the honeycomb pattern.
Wrap a rimmed cookie sheet with plastic wrap, pulled taut.
Put 1/3 of a cup of bubble mixture into the cookie sheet and blow bubbles until the space between the plastic wrap and the cookie sheet bottom is filled with flattened bubbles.
You'll find that (except for the edges), the bubbles form perfect hexagons. It is the bubbles' way of maximizing both the soapy film that makes its skin, and the airy center that is its core.
6) Make a bubble flute. Rubber-band a bunch of straws together, dip it in the mixture and blow. Great for the little guys!
7) Make a bubble obstacle course. Use your imagination (or let your child's run wild) and create an obstacle course for a bubble. Using your hands and mouth to create a breeze, carry a bubble over the picnic table, through the hula hoop, and land it on the bird feeder. Without it popping or touching the ground.
For more on bubbles, more bubble activities, and more things to do in the summer, check out the exploratorium's webpage; especially read about bubble colors—fascinating! One of my favorite online resources. Happy Bubbling!