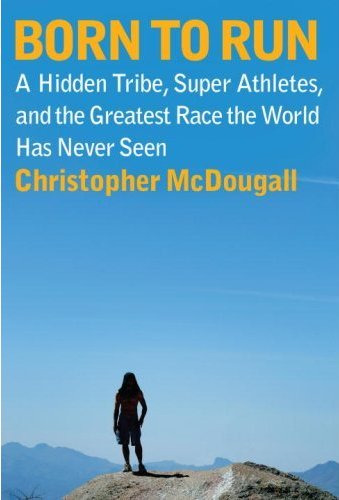 When a friend of mine told me I should read Born To Run the first words out of my mouth were "but I don't like running." She assured me you don't have to be a runner to appreciate the book. I was still a little apprehensive.
So there it sat, collecting dust on my nightstand month after month. Finally one evening I picked it up with the intention of skimming it so I could at least return it. I was hooked after the first page. Why?
Christopher McDougall is so witty, I was laughing out loud through the entire book. I was even captivated through the acknowledgments.
It's such a great story! I like how the book touches on both the 'physical' and 'human' nature of the characters, and how that plays a part in not only their running, but essentially their lives. Â I'll admit, I thought about crying at the end.
Being a science nerd, I was intrigued by the human evolutionary insights.
Yes, it's about running, but there are lessons that can be applied to any sport, and any person, in any situation. Take for example this quote:

If you really want to understand the Raramuri, you should have been there when this ninety-five-year-old man came hiking twenty-five miles over the mountain. Know why he could do it? Because no one ever told him he couldn't. No one ever told him he oughta be off dying somewhere in an old age home. You live up to your own expectations, man.
-Micah True, p. 50
The whole book just left me feeling inspired. Like I could stand to live up to my own potential a little better. And you know, maybe I really could learn to like running…
Anyone else read it? What did you think?