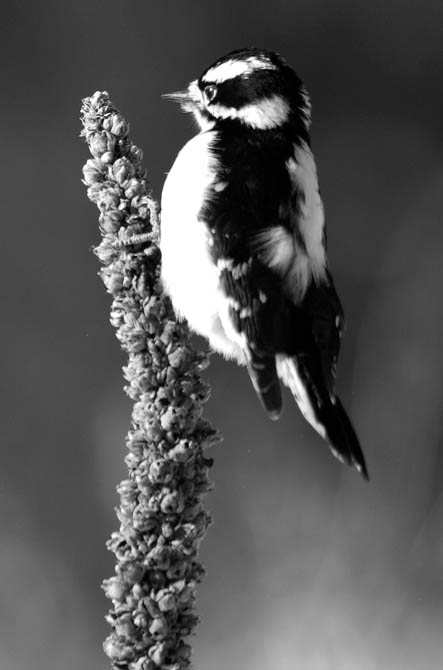 That's right, there's more than one way to use a stick.
Here's one you may not know about, but that I learned about from David Attenborough on his The Life of Birds videos (I put a youtube video of Attenborough in action at the bottom).
Note that Attenborough uses a rock, which, obviously, can work too.  I have found that sticks resonate better, but it may depend on the type of stick, the type of 'drum', and the type of bird.  I leave you to find what works best in your area.
Especially useful during breeding season, woodpeckers (by the way, did you know that a group of woodpeckers is called a 'descent' of woodpeckers?) respond not only to vocal calls, but to the drumming sounds they make when hammering at wood with their sturdy beaks.  Each drumming rhythm is unique to the particular species (though some sound a lot alike to me!) and not only attracts a mate, but also helps to delineate territories.
Here are some examples:
The Yellow-Bellied Sapsucker (best bird name ever, by the way)
Here are some more
Obviously, the key is to get the rhythm right, and many of these birds can move their strong neck muscles fast enough to make almost a drum roll sound.  With practice, you'll find it isn't as hard as you'd think.
Here are some tips.
To get a sound to travel, use a 'drum' that is fairly dry.  I've also found that the branches sticking out from a heavy duty trunk work better than the trunk itself.  Fallen trees are good, but only if they're not wet or too far into the rotting process.
I've also found that bark can get in the way.  If using a fallen tree, peel back some of the bark to get at the more resonant wood.
Use your wrist instead of your whole arm to hammer out a rhythm, and allow most of your arm muscles to relax when trying to beat quickly.
Using two sticks to beat on your drum can speed up the rhythm even more.
This exercise is fun, and you'll find that your kids will want to 'call woodpeckers' frequently just for the chance to pound on tree trunks with sticks.  It is also a great way to practice the art of holding still!