With my first son I had a BABYBJÖRN Active Carrier. With my second son I borrowed an ERGObaby Carrier. If you're trying to decide between the two, here are my thoughts on the pros and cons of each. As well as my recommendation.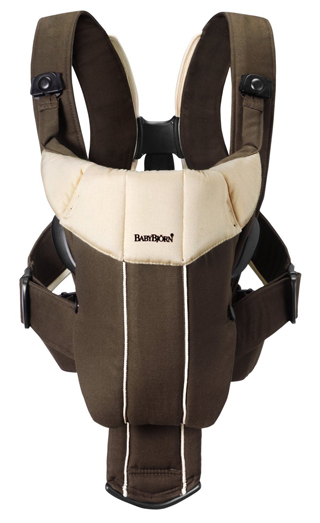 Pros:
Works well for small babies over about 1 month old.
Baby can either face towards you, or look out on the world.
The baby cover is AWESOME for the wintertime. They also make a sun cover, which I've never tried, but it seems practical.
I loved the flat, thick shoulder straps. The straps never slid off my shoulders and adjusted easily. Because the straps are flat you can wear a backpack with it.
They make a mesh carrier which would be great for summer.
You can find them used online for pretty cheap.
Cons:
Dosn't support tiny infants enough. I used a homemade moby wrap type device until my son grew into it.
I got the Active model thinking it would be more comfortable. Maybe for someone taller? Because I'm only 5′ 2″ the back support (and baby) just sort of slouched and never really stayed in place.
Once my kids legs started getting longer (around 5 months) it was hard to hike up hills because my knees would hit their legs.
No hip strap means you carry all the weight on your shoulders. Get's heavy.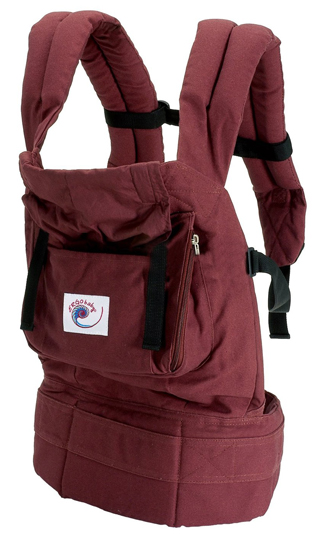 Pros:
Use the Infant Insert and you can start wearing your baby right away. The insert also helps baby stay warm in the winter.
The hip strap is really comfortable; helps takes weight off your shoulders.
The baby sits in the carrier with their legs wrapped around you, no dangling legs makes it easier to hike up hills.
It's a front pack AND a backpack. Being able to move the child to the back when they get older allowed you to use the pack longer.
I love that there is a pocket. Also has a fold out sun shade that can hold up the head of your sleeping little one.
Cons:
The infant insert makes baby hot in the summer, especially if it's black. It also does not secure babies head enough so weak necks bob forward if you're moving vigorously.
My son would get annoyed when Joe would wear him on his back, he couldn't see over his shoulders (Joe's torso is longer).
Baby can't turn around and look out if they are on the front. This was a problem for my 3rd child.
There is an awkward time around 5 months where baby is a little too big for the insert but too small for the carrier.
Bulkier to wear than the Bjorn.
Overall, if your looking to invest in a carrier I'd recommend the ERGObaby Carrier. They're about the same price, but because of the way the Ergo is designed it can easily last your child three years instead of one. It's comfortable, practical, well made, easier to hike with and it's way cuter… You know, if you're into that.
Another carrier to check out is the Mei Tai. It's not as comfortable for long term use but the beauty of the Mei Tai is that it folds up really small. I don't own one, I've used one, and thought it would be handy to put in your daypack, vehicle or purse for 'emergency' use.
Also, check out these reviews by some friends on other carriers: Beco Carrier, Boba Air, Boba 3G, Onya, Tula also the Belle Baby Carrier (and others).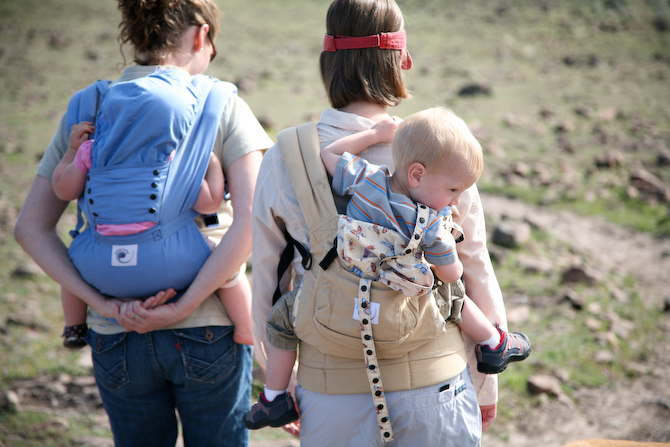 If you have used either of these and have additional pros and cons leave a comment! Alternately, if there is a baby carrier you like more I'd love to hear about it.