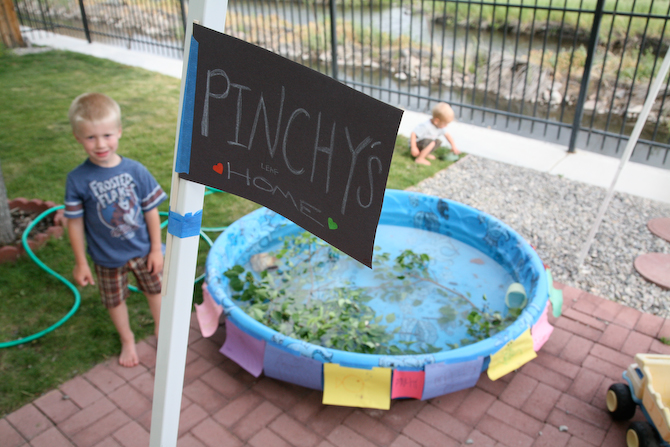 The other day we took an outing down to the river. Â I was kayaking with some friends while the boys looked for crawdads. Â Their search was a success, they found a "ginormous" crawdad that Ari just had to keep, but only for a few days…
Pinchy (as it came to be known) accompanied us to a 4th of July BBQ (in a Tupperware), then came home with us to take up residence in the kiddy pool for a few days.  Ari constantly stopped by the pool to watch Pinchy scuttle along the bottom.  He'd pick Pinchy up in a cup, examine it, ask me all sorts of pinchy-related questions I couldn't answer, and try to feed it various things from the kitchen (naan, pepperoni, dog food, carrots etc…)
At one point Ari decided that we needed to spruce up Pinchy's temporary habitat. Â I needed to prune the trees anyway so we cut down some branches and put them in the pool along with some rocks. Â Pinchy loved it; but I'm sure what Pinchy loved even more was the beautiful pictures we spent all afternoon drawing. Â We lined the edges of the pool with original artwork consisting of both river and sea creatures. Â Ari assured me this would help Pinchy not be so lonely while he was staying at our house.
Ari was so excited about the habitat he'd made that he asked if he could invite some friends over to see Pinchy's home. Â But when Ari went out this evening to show Joe Pinchy's home, Pinchy wasn't moving; Ari's friends would have to come over for a viewing instead.
Joe and the boys are always bringing strange  pets to live briefly at our house; this was the first one that has met an untimely death.  I thought Ari would take it hard, but he didn't.  He took Pinchy out, examined its legs, its "heart-shaped tail", its pinchers, its lobster-like qualities.  Then he threw it in the canal for "the birds to eat".
I started thinking of all the lessons we learn from our odd temporary pets.
How much Ari loves to make the perfect home for his pets.
How he empathizes with them and tries to see the world through their eyes.
How he loves to have his friends share in the joy with him.
How he spends time learning about each pet.
And how in the event that a pet dies he accepts it as a part of life.
Thanks Pinchy. Â You'll be missed.