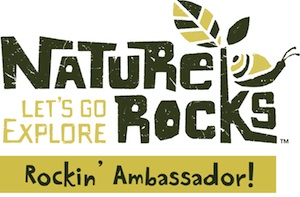 Notice anything new about the website… Like maybe on the sidebar? Maybe a graphic that looks like this one to the left?
I'm sure a lot of you are already familiar with Nature Rocks, but for those who aren't, allow me to explain. — It's a campaign that strives to get children and families back into the outdoors. Their belief is that nature produces the benefits of happier, healthier and smarter children and families.
I agree.
Which is why I found it fitting to volunteer as a Nature Rocks Ambassador. It gives me a chance to be involved in a national program that essentially believes what I believe.
I'm keeping their 'button' on my site so that readers can have easy access to their Website, which I would say has three main functions:
Find Nature Near You. You can actually do a search via their website based on your location and the type of outdoor activity you have in mind (i.e. biking vs canoeing). You put in your criteria and it pulls up some options on a map.
Outdoor Activity Ideas. They have a database of over 100 different activities all searchable by location, time availability and age appropriateness.
Networking. You can connect and meet up with other Nature Rockers in your area. Post events, join others events or just meet other like minded parents.
Their Facebook and Twitter accounts are also well worth following. They have the support of so many fabulous people and organizations that they come up with some pretty good info.
If you think you might need a little Nature Rocks in your life, check them out. It's an awesome organization.