Now that your dutch oven is ready to go (or perhaps yours already was…), here are a few of my favorite recipes to make when camping.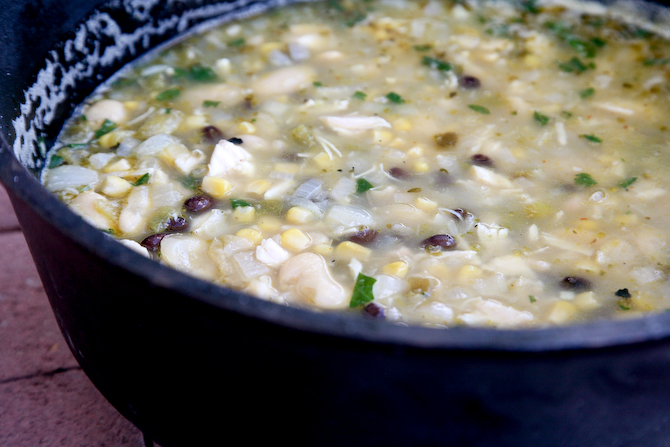 Note: Pictured here is a variation of the Green Chile Cheese Cornbread and White Bean Chili recipe (minus the cornbread, plus black beans).
Also a note on dutch oven cooking:  So that you don't lose heat, I often place my dutch oven in a shallow hole in the ground over some coals.  HOWEVER if the ground is wet, this doesn't work at all.  You can also use a metal pail that is slightly wider in diameter than your dutch oven.  Put the coals in the bottom of the pail and place the dutch oven over the top of them.  If it is windy, you'll need to rig up something to keep the heat around the dutch oven; I find the pail to work well, but I'm sure there are other solutions.  Wind is one reason why yesterday I wrote that dutch oven cooking is at its best on a sunny beautiful day!
Also, for recipes not listed here that you'd like to try, but you're not sure how many coals to use, a rule of thumb that works for me is two to three less coals underneath than the diameter of your dutch oven, and two to three more coals on top.  So for a ten inch oven, I'd put seven or eight underneath and twelve or thirteen on top.  I have yet to burn anything, but sometimes it takes a little longer to cook than it would in my oven at home.  You can always add more if you're brave, but remember that (since heat rises) you'll generally want more on top than underneath to keep the temperature inside even.
GREEN CHILE CHEESE CORNBREAD and WHITE BEAN CHILI
This is one of my favorite meals to make, and there are seldom leftovers.  It requires a little work on a stove top, but is extremely easy, and is always a crowd pleaser.
What You'll Need to Serve Six
1-2 packages Marie Callender's Cornbread Mix.  I get mine at my local grocery store.
2 cans diced green chiles
1 c grated cheddar cheese.
2 Tbsp olive oil
2 cans white meat chicken
Onion (1), green pepper (1), lime (1)
Garlic (for camping, just buy a small jar of pre-minced garlic so you don't have to dice it small in the field)
1 can each corn, great northern beans, white navy beans, butter beans
Spices:Â  cumin, salt, pepper, cayenne pepper, oregano
Cilantro for garnish; sour cream and avocado if you're really fancy.
Utensils You'll Need
Stirring spoons, mixing bowl, cutting board and knife for cilantro, can opener, pot for cooking chili on stove top
Before You Leave to go Camping
Grate the cheddar cheese and put it in a Ziploc bag.
Cut up onion and green pepper into bite-size pieces, place in Ziploc bag.
At Camp
Heat coals:Â  you'll need twice the number of coals as the size of your dutch oven (if it is a 12 inch, you'll need 24 coals).

Mix cheese, Marie Callender's cornbread mix, 1 can of diced green chiles (drained of juice), and the appropriate amount of water (see back of cornbread package).
Pour into dutch oven.  Put lid on oven, and place over 9 to 10 coals.  Put 14-15 on the top.  Cook 'til a knife inserted in the middle comes out clean.
On the stove top:  heat the olive oil.  Sauté onions and green peppers til soft.  Add 1-2 tsps garlic, and sauté for another 30 seconds.  Add in all spices and lime juice, stir to thoroughly coat veggies.  Add 3 cups water and a boullion cube.  Add all canned goods (chicken too), drained of their juices.  Heat until everything is cooked.  Add more water if necessary to cover everything.
(You can thicken this by adding a flour paste, but I usually eat mine like a soup.)
Garnish with sour cream, avocado, and/or cilantro
CHICKEN and DUMPLINGS
This is a new find of mine, but is very straightforward and very tasty both at home and when camping.  The key is getting the liquid to the right thickness, which is a matter of personal preference really.  It's easy to adjust:  add more flour for thicker sauces, add more water to thin it out.  Because the chicken is precooked, this meal takes only about a half an hour to cook (15 minutes to cook veggies, 15 for the biscuits on top).
What You'll Need to Serve Six
2 rotisserie chickens, meat cut from bones and pulled into pieces OR (as I usually do) 3 cups Tyson's pre-diced grilled chicken (frozen)
2 Tbsp canola oil
2 Tbsp butter
2 Tbsp flour
4 c Jiffy Mix or Bisquick
Spices:Â  cayenne pepper (1-3 tsp), herbs de provence (2 tsp), salt/pepper
Carrots (3 sticks), onion (1), celery (2 sticks)
Two chicken bouillon cubes and 3-5 cups water
Utensils You'll Need
Wire whisk, stirring spoon, mixing bowl, measuring cup and spoon(I just eyeball everything, but if you're uncertain, use a measuring cup), bowls for food and serving spoon!
Before You Leave to go Camping
Slice the onion, the carrots, and the celery and put in a baggie.
Pull the meat off the rotisserie chickens (unless you went the pre-diced route!)
At Camp
Heat 20 briquettes.  If you're fancy and have a coal starter, you can heat them in that.  Otherwise, heat them in the campfire.
Place ~15 underneath your dutch oven, with the lid on, and allow it to get nice and hot (save the others for later).
Add the canola oil and the butter to the dutch oven and let them melt.
When sizzling, add the bag of onions, celery, and carrots that you brought pre-cut.  While they cook, add salt, pepper, herbs de provence, and however much cayenne you are comfortable with.
When onions are a little bit soft, add 2 Tbsp of flour and stir it in—it should stick to all the veggies.  Let it turn a nice brown color, and then add in your chicken broth (i.e. 3 cups water and a bouillon cube).  Stir thoroughly with a wire whisk to break up any clumps of flour that may form.
Place the lid back on the dutch oven, and let it simmer for 10-15 minutes.  If it is bubbling too much, pull a few coals out from underneath.  If it doesn't seem to be bubbling enough, add a few to the lid from your stash of leftovers.  If it gets too thick, add a little water.
Meanwhile, in a separate bowl combine the Jiffy/Bisquick mix and the appropriate amount of water or milk to make biscuits of the 'drop biscuit' consistency (Bisquick has a recipe on the side of the box).
When everything is soft in the dutch oven, add the chicken, and more water if necessary to keep everything covered (you can add a little bit of bouillon too if you think it needs it).    Let the chicken heat through.
Place dollops of the Bisquick mix all over the surface of your chicken mixture.  At this point the baking begins:  Make sure there are ~9-10 good coals underneath your oven, and 14-15 on top.  Replace the lid, and cook until the dough is cooked through.
GINGERBREAD and PEACH UPSIDE-DOWN CAKE
This one is a family tradition.  We made it almost every time we went camping while I was growing up.  The only part that ever caused problems was when the coals got too cold before the cake finished cooking.  Just keep an eye on them!  Leftovers of this make for a great breakfast too…
What You'll Need to Serve Six
1 box Gingerbread Cake Mix (if you get one that requires oil, make sure to bring oil too!  I believe Betty Crocker's does not…)
2 cans peaches (unsweetened)
Eggs (see back of cake mix box to know how many)
Utensils You'll Need
Mixing bowl, stirring spoon, measuring cup (best not to eyeball this one), can opener
THERE'S NOTHING TO DO BEFORE LEAVING HOME EXCEPT DREAM OF THE DESSERT TO COME!
At Camp
Heat coals:Â  you'll need twice the number of coals as the size of your dutch oven (if it is a 12 inch, you'll need 24 coals).
Open peaches, and drain liquid into measuring cup.
Pour peaches into bottom of cold dutch oven.
Instead of using just water for the cake mix, you're going to use the peach juice, plus however much water is required to total the amount suggested on the back of the cake mix box.
Mix egg(s), cake mix, peach juice/water til thoroughly mixed.
Pour over top of peaches.
Put lid on dutch oven, and place over nine to ten coals.  Put fourteen to fifteen on the lid.  Let cook until a knife inserted into gingerbread mix comes out clean.  Make sure to monitor your coals—if they start petering out, add more to the top and bottom, so that the temperature stays consistent.
Enjoy!