I grew up camping quite a bit with my five siblings and my parents.  I remember splashing in creeks, going on hikes and bike rides, rigging up rope swings, making huts, catching snakes and cramming into a tent when the sun went down.  I look back on these memories with great fondness, and I know this must be why I seek out the same opportunities for my own children.
HOWEVER, I realize now, with only two small boys, how challenging it must have been for my mother to keep six of us (three girls and three boys) semi-clean, fed, happy, and on the radar.  I was curious to see how she did it.  Never, in all the many times that we went camping, did it occur to me that she was looking forward to the drive home more than she was the next round of freeze-tag-in-the-cactus-patch.
Why did she do it?  Why did she take us again and again when it was so exhausting?  I found the answer inspiring, and I think it might appeal to my readers who don't naturally take to the idea of sleeping on the hard ground and taking baby-wipe-showers.
I am thankful everyday that my Mother (and Father) created for us the opportunities to experience the outdoors, no matter how hard it was on her, and I appreciate her optimistic outlook, always willing to go along for the adventure. So, it is with great honor that I present to you, an interview with MY very own OutsideMom.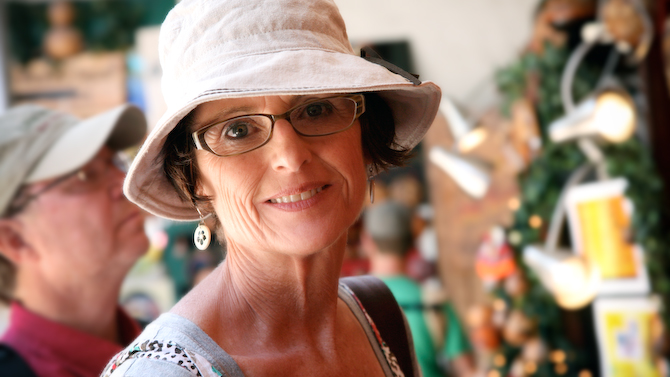 1. First of all, what was YOUR childhood like growing up?
Growing up in Las Vegas in the 1950's was great! My family lived way out of town on six acres.  We had our own sand dune with tamarisk trees so old and large that we could actually run on the limbs of the trees and play tag.    At the bottom of the sand dune was a pond fed by an artesian flow from an old well.  Between the two places we had access to cattails, bullfrogs, fish, tadpoles, insects of all kinds and assorted birds.  Not only did we have our family's six acres, but we had the whole desert beyond to explore.
It wasn't the flora and fauna that was my biggest draw, although I did love seeing lizards, snakes, a desert tortoise or two, some intriguing rocks and cactus blooms.  I want you to know for me, that wasn't the best find of the day.   As a child, my best find was junk piles, the new ones and the old ones.  It's not like it was lots of wet garbage and stinky stuff. Wet garbage and paper were burned in most people's back yards in a big metal barrel.  The other stuff that wouldn't burn was dumped out in the desert along one of the many dusty dirt roads. Since we lived way out of town, we had close access to the good stuff……I considered myself pretty lucky on that one!
2. We tent camped a lot when I was young. I'm not so sure I could take 6 kids camping, what was your motivation?
Our budget didn't allow for big elaborate vacations and we didn't have the trendy toys the neighbors had.  We didn't ski, snowboard, go boating, or ride 3-wheelers. Money for gas determined how far we could go.  Luckily it didn't matter how far from home we were, you guys had just as much fun on an outing that was twenty minutes from home as you did on a day's drive.
I feel bad to say that we didn't go camping near as much as your Dad would have liked. He was my motivation.  Your Dad would say, "If you want the kids to have memories of their childhood, you have to do something to make those memories, even if they are bad ones."
I'll admit I tried to like camping, and I really wanted to like other parts of the trip besides just the drive heading for home. Over the years we kept improving our camping supplies.  It wasn't for the kids that we improved them; it was for me! With each upgrade I began to like camping a little more; that and you kept getting older which made things simpler.
3. What kinds of improvements did you implement to make camping smoother?
Since it was hard for me to get enough sleep to stay sane when we camped we were constantly trying to improve our sleeping situation.
Phase 1: At first Marshall and I started camping with no tent, just sleeping under the stars. I found out I couldn't sleep on the hard ground and every air mattress I ever had was flat by morning.
Phase 2: Your dad brought out an old Army tent with a pole in the middle and no floor. It was the kind you usually needed an army truck to haul around. We did have a few army cots, but they weren't much better than the ground.
Phase 3: Eventually we got the Coleman eight-man camping tent.  It was luxurious compared to what we'd been trying; at least it had a floor, windows with screens and a door!  It held six kids and two adults alright, just like sardines in a can.  By this time I had a decent air mattress and would have possibly slept, except someone was always waking up crying which would set off a chain reaction of discontent children causing cranky parents.
Phase 4: The day we took the mattress off the hide-a-bed couch and used it for Marshall and me to sleep on was a real turning point.  However, we had to take the Safari Minivan AND the Ford pick-up to get all our camping stuff, along with the family, to Pine Valley so we could camp for three days.
Phase 5: In 1990 we bought a tent trailer and I was good to go!  It was comfortable but it would not hold all eight of us, so some still slept in the tent, which was even a better idea.
Phase 6: In 2001 we graduated to a Wilderness camping trailer.  By the time we'd made that upgrade the kids weren't little anymore, but the grandkids are and the circle continues.
4. You mentioned that you wanted to be able to make memories even if they were bad ones. I have to know; with six extremely well behaved children (wink wink) was there ever really a 'bad' memory?
I must confess, there weren't very many bad memories!  In retrospect even the bad memories weren't all that bad and have been the topic of many good laughs. Our first time camping at the beach was certainly a memory. It was in 1987 and you kids ranged from thirteen to two years old. Not being ocean camping savvy, we ended up learning a lot from this trip.
The number one lesson was sunglasses.  We were told to bring them and use them, but we didn't heed the warning.  It was just too expensive to buy everyone a pair of sunglasses that we knew they wouldn't wear. After two days on the beach the third night in the tent was filled with crying children.  Everyone had their eyes sunburned.  In the morning when you guys woke up your eyes were matted shut with goop.  Sunburned eyes are very sensitive to light so you had to stay in the shade and your dad had to go buy everyone a pair of sunglasses.  We found a doctor that would write us a prescription for the badly needed eye drops to help heal the kid's eyes.
We took everyone to the San Diego Zoo for one of the days we were there. We had the two youngest on leashes (which they hated), as we were paranoid about loosing someone or having you kidnapped.  Being kids, you were excited to see everything and trying to keep our little gaggle under wing was a big undertaking. It was exhausting. I think the entire world decided to go the zoo on the same day we did.  I never wanted to go there again, it about killed me off.  So why did we also take you to Sea World and Tijuana that same trip?
Even going to the beach we felt like we were on high alert counting heads constantly.  The three younger kids were the only ones on the beach with life jackets on.  Of course, you wanted to be by the ocean or in the ocean all the time every day so it was constant vigilance.
Hence, after this trip in 1987 we didn't dare try camping at the beach again until 1991.  You kids were four years older and we had our Coleman tent trailer….ahhhh, much better. We went every year for some 18 years, still do just not every year. After we figured out (via trial and error) the ins and outs of beach camping the annual camping trip to Carlsbad State Beach became my favorite camp trip.
5. Do you have a favorite outdoor memory?
One memory that really sticks out in my mind is a picture I look at every now and then.  It's a photo of Seth when he was only two years old and we happened upon a liter of baby bobcats way down in eastern Arizona.  It was so wonderful and exciting to see such a rare sight.   Seth toddled over and sat right next to the two of them, petting the little guys like you would kittens as they crawled over the top of his lap.  We took a few pictures, then we all stood back to watch and marvel at what we had found. The mother was not far away as she let us see her take off hoping to lead us astray.
6. Since camping wasn't necessarily your favorite outdoor activity to do with us as kids, what was? And why?
My favorite activity to do with the kids was the day adventure.  The one where you could go somewhere on a picnic or day hike, see some new sights, learn a few facts, roast some hot dogs and return home to showers and your own bed.  It was especially fun to get another family to go along.  These back-to-nature outings were a part of our family, they were what we did regularly, not just an occasional something to do.
7. I know now that taking kids out on camping trips, or even a day trip is exhausting! What do you think kids have to gain from these experiences, I mean, why not just stay home?
You know what Lindsey?  Your father was right; we needed to do those things.  It may have been exhausting but I guess many times worthwhile ventures were and still are labor intensive.  The memories are priceless and the bonds that we made are very strong.  I believe in our wanderings there was instilled in each of us a deep appreciation for God and a respect for what he has created.  It let's us all know that we are part of a bigger picture.