mo•ment
noun /ˈmōmənt/
An exact point in time.
An appropriate time for doing something, an opportunity.
A particular stage in something's development or in a course of events.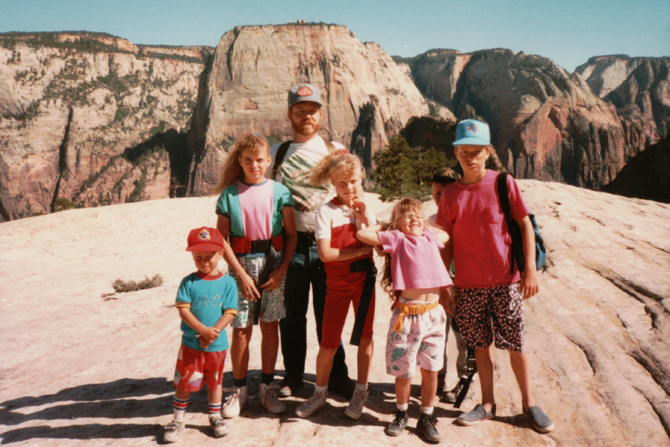 Ever since the Grass Stain Guru re-posted her "10 Can't Miss Childhood Moments" I've been thinking about my own list. To be honest, a wave of moments flooded my mind even before I'd finished reading her list.
I actually read her post a few weeks ago, and have been sitting on my own list ever since. Â I think I was taken aback by how quickly my own list came to my mind. Â Nothing involving writing ever comes quickly to me. Â And besides, the things on my list are all so… so simple. Â I thought if I stewed on it a little more, I would probably come up with a different list that included some incredibly inspirational moments; things that beat the ten that first came to my mind. Here I am weeks later and nothing else has occurred to me.
Are these really "can't miss" moments? Â They were to me. Â And that, I've decided is the key to 'can't miss moments'. There isn't any one thing that every kid should experience. Â More important is just that they experience something.
Dangling my legs off a tailgate, while bumping down a dirt road.
Back before the days of seat belts my parents would throw us all in back of their 1971 Ford pickup. As soon as we hit a dirt road, down came the tailgate and over the edge came six little pairs of feet. We'd watch for lizards and snakes while the dust slowly coated our scrawny legs.
Serving mud pies on a set of rock dishes.
I never had a tea set as a child, nor did I pretend to serve cucumber sandwiches. Â Instead I made mud-pies and served them on sandstone plates. Â And at the end of each day I'd wash my dishes in the canal and stack them neatly in the 'kitchen' in my hut.
Making a hut.
Seems like every season of my life came complete with its own hut. Up high in a Tamarisk tree, in a cave on the edge of a cliff, between two rocks tilted together, a shack nailed together in the backyard or in a hole we had dug in the ground. My siblings/friends and I always had a place of our own, where we could seek refuge from adults, Â reality, and at times the neighborhood bully. Â Those huts were the backdrop to many an adventure and more than a few daydreams.
Breathing in the view after a long hard hike.
This is a moment that was repeated several times as I grew up. Two stand out in particular: Â the view from Scouts Lookout in Zion National Park (photo above), after hiking in from the West Rim, and seeing Havasu Falls after trying hard not to cry from the weight of my pack on my first backpack trip. Â How is it that, in the beauty of a spectacular view, the rewards of hard work can so clearly manifest?
Playing capture the flag in a canyon at night.
It was never the game that interested me so much as it was the sneak-factor. Â My senses were re-prioritized in the dark, and what I heard was so much more important than what I saw. Â I remember being aware of the sounds around me. Â Especially my own.
Flying cicadas.
I don't recall ever flying a kite. But we used to catch cicadas, tie a piece of string to their leg, and then hold on as they tried to fly around the yard. Â I can still hear the racket of their wings and see their bodies, blurred and silhouetted against the sun.
Visiting critters at night.
The night was such a mystery to me. Â Creatures that hid from us during the day dominated when the sun set. Â Like something from a dream, only these things were real! Â My siblings and I would take a spotlight out into the hills to find kangaroo rats. They would freeze in the light. We would pick them up, marvel at their size, their tails, their warmth and fragility, and then let them go. Â And instead of a campfire, we would often sit around a different kind of light at night: Â a black-light. Â We would stay up til the wee hours, oohing and aahing over the otherwise unseen insects that would make their way to us when we put up a white sheet and shined a black-light on it.
Spending an afternoon on the edge of the river.
I grew up within walking distance of the Virgin River. In the summers we would skim board, find a swimming hole, or cover our bodies in mud and try to scare cars on the bridge. Many of my favorite moments involved me and a good friend, sitting by the river and chatting while we buried our feet in the mud.
Sleeping out under the stars on the trampoline.
I remember being awake after everyone else had gone to sleep, looking up at the night sky. Â Silent. Â Brilliant white stars engulfed in overwhelming blackness. Â I remember trying to see into the blackness, to make my way deep into the galaxy.
Making bike trails at the local vacant lot.
Me on the bike my Grandpa made me, filthy, breathing hard, completely alive. Â And scared witless. Â Afraid to go fast enough to 'catch air'. Â Until I did. And after that I could do anything.
Did you have 'moments' pop up from your childhood? What we're they? I would love to compile a list from readers. Please share!