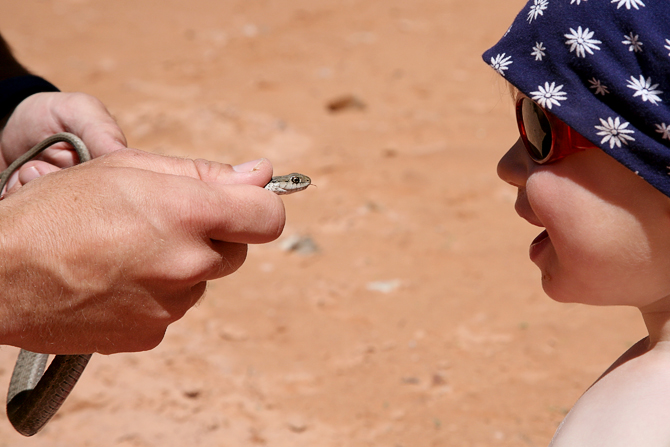 Remember this college kid? She got thrown another curve ball by a pack of pre-schoolers. The conversation went something like this:
College Kid: (after reading a book about a snake) So do you know how snakes smell?
Kids: With their tongues!!!
College Kid: Your right. Good job.
Kid A:Â (raises his hand) So, do snakes have noses?
College Kid: Nope, snakes don't have noses because they smell with their tongue.
Kid A: Oh… (as parents shake their heads like "oh wow, I didn't know that").
My Son:Â (not raising his hand) Snakes DO have noses!
College Kid: No, they don't.
My Son: Yes they do.
College Kid: No, I don't think they do…
My Son: (looks over at me in horror).
Me: (mouthing to Ari when the College Kid is not looking) Yes they do, your right, it's ok. Sit down.
My Son: Hey! My Mom says snakes have noses!
Me: (I blush a little, smile and wave).
College Kid: Ooookay. (Avoids eye contact, changes the subject).
Yes, snakes do smell with their tongue. They do this by flicking their tongue to collecting particles from the air. They then stick their tongue against a special organ on the roof of their mouth called the jacobson's organ. This organ smells the gathered particles.
BUT, just because snakes don't smell with their nose, doesn't mean it's not there. They do have two little nose holes on the end of their snout called nostrils; which are mainly used to breathe.
I was surprised at how hard it was to find good information to confirm my assumption about snakes nasal structures. There's a lot of weird stuff on the internet! I finally consulted a Herpetology textbook, Joe (husband) and my Dad. An hour later there you go. Yes, snakes technically have noses. Well, sort of…