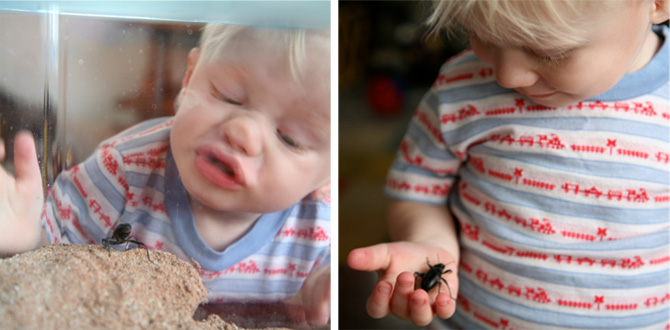 Growing up I always called these critters 'stink bugs'. I know this is somewhat controversial is some circles (like between me and Joe), but the name makes so much sense! They stick their bums (abdomens) in the air and have the potential to spray stink at you (which easily washes off). Sounds like a stink bug to me. Well, apparently the most politically correct name is a Tenebrionid beetle. There are several different kinds of beetle in the family Tenebrionidae, and they all make pretty good pets.
I know, a stink whatever-you-want-to-call-it doesn't really sound like much of a pet, but it is. Here's why:
You can find Tenebrionid beetles anywhere.
They're easy to catch, no law against it, just put them in a jar and haul them home.
They move around a lot, especially in the daytime, so it's like watching a fish tank…sort of. My kids spend quite a bit of time observing these little guys crawl around.
It's a low commitment pet. As soon as you grow tired of watching them, put them back where you found them.
Your pet is a local! Take some time and learn about its natural habitat, history, behavior etc. Kids can learn a lot from observing critters found in their own backyard.
Of course your 'stink bug' will need a habitat. Here's how I suggest making one:
Get a tank or critter carrier.
Put in some sand or dirt.
Add a few rocks, maybe some sticks for them to hide in.
Get a small dish (or jar lid) for food. They eat a variety of plants so you can feed them a variety of produce. If you feed them fresh fruits and veggies they get plenty of water from their food. But just incase I would also add,
A small dish (or jar lid) for water.