Last week was my Birthday.
When I turned 30 I started the tradition of spending my birthday camped in a really cool spot. Just about every year we HAPPEN to choose a location within a 100 mile radius of where my best pal Olivia is doing field work. This years destination was the southern portion of Death Valley. The plan was to camp, hike, hang out, cook my birthday cake in a dutch oven, share the recipe with you… It was going to be great.
Then it got cold. And windy. And my kids got sick.
We did make it to Ash Meadows National Wildlife Refuge to check out the pupfish. We thought that maybe we could find a pocket of calm somewhere around there. Nope. After returning to the van in 60mph winds and with dirt in our eyeballs putting up a tent was deemed impossible. Could we sleep an extra adult in the van? No.
Doesn't this look like great camping weather? Even K-So (our dog) is squinting!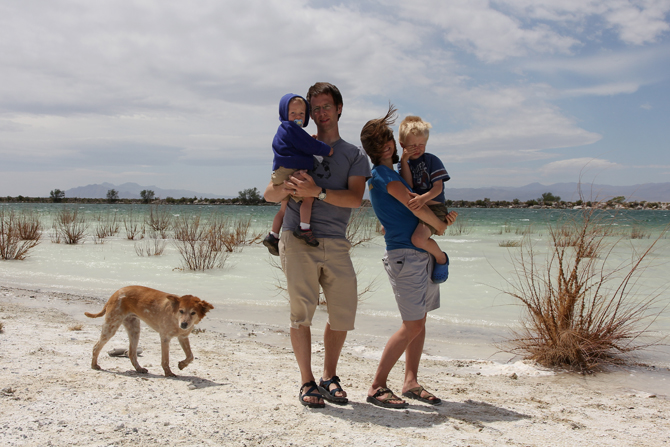 Note: The following galleries are full of cell phone pictures. Pretty sure I jinxed the trip by leaving my camera home. Thankfully I discovered Instagram, the coolest photo app ever.
We ended up in a hotel in Pahrump Nevada. I know. I know! At 33 years old am I finally growing soft?
We made the best of it. We lucked out with a little kitchen (sink, microwave, fridge) so we cooked dinner in the hotel. My kids were elated, they've done plenty of camping, but a HOTELO (see they can't even pronounce it right)? This was the coolest thing ever! They got to jump on the beds, make a really big tub, use the contents of the kitchen box as dress-ups AND watch PBS kids in the morning. Oh ya, for my kids, this BDay was off the hook.
The weather still wasn't cooperating the next day, so we headed for home early. We drove the long and scenic route. We took our time. We stopped a lot. We hit a few side roads. Saw some sites. Ate lots of snacks. In the evening we put the kids to bed in their car seats and listened to the audiobook version of Jane Eyre (Joe was so excited). It was actually a surprisingly pleasant 12 hours.
My BDay trip didn't turn out as planned. But you know, it was all right. That just means I'll have to make up for it next year.