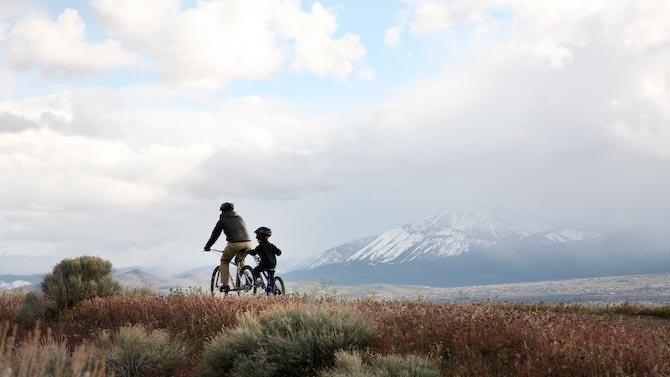 We debated for a long time over getting a trailer bike. Would we like it? Is it a pain to pull? Does it do well on single track? And most importantly, will Ari like it?
Ari is, how should I say this… cautious? Ok, basically he's afraid of everything but bugs. He won't go anywhere near a climbing harness (yet) and up until last week wouldn't set foot in a water vessel. BUT he has shown an interest in biking. He learned to ride pretty quick and seemed to really enjoy single track on his balance bike. So maybe?
Then our friends posted this video of their daughter (Ari's age) riding a trail with her Dad. It was all over. We had to have one.
And now I can tell you all the reasons we love OUR trailer bike:
Yes! It does great off road and maneuvers fine. You don't really even have to think much about compensating for the extra length.
It's so much easier to pull than I thought. That extra little power horse (i.e. 4 year old) in the back sure makes a difference. Of course he pedals harder on the downhill than the uphill, but we're working on that.
You can actually hook a bike trailer to the wheel of the trailer bike. You look like the bike version of a winnebago pulling a smart car, and people laugh when they drive by, but sometimes I'm that desperate to take a ride.
We plan to do a bike packing trip this summer, so a trailer bike is going to be essential.
If Joe and I had to pick a sport we loved doing together mountain biking would top the list. This contraption allows us to still do that to some degree.
I really feel like the trailer bike is teaching Ari skills he'll need to know when he's ready to fledge out on a mountain bike of his own. The feel of the trail, maneuvering, leaning into turns, holding on tight, the joy of hauling down a hill, etc.
Seriously. These things are awesome.
Also, I noticed in my REI catalog that May 20-30, 2011 the Novara Afterburner is on sale. You can save yourself $49! Ours is an older Trek, we found used on Craigslist, but I've heard good things about the Afterburner. I would suggest looking around on your local classifieds first, you could get a pretty sweet deal; which makes the trailer bike that much more awesome!
If you have a trailer bike leave a comment and letting us know what YOU love (or don't love) about YOUR third wheel.