Last week, after frantically finishing up a bunch of contract work (yes, I have a day job), getting stuff together for pre-school and finishing a blog post, I stood up, looked around my office (which had pretty much turned into a toy room) and realized something…Â When I started this blog I promised myself that it would never cut into my family time, never cause me to shirk my other duties and never, heaven forbid, cut into our outside time. I realized my life was actually getting to that point.
I needed help. And I found it.
Allow me to introduce a new member to the OutsideMom team: Olivia.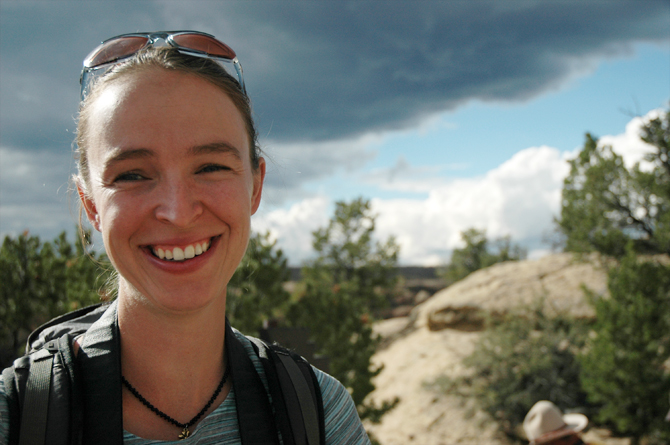 I toyed around with a few titles for her, 'idea-bouncer,' 'schedule-maker,' 'sanity-checker,' 'coolest-girl-ever,' but in the end I settled on 'Contributor.' Olivia will be contributing posts a few times a month.
I wanted to introduce you to Olivia before her first post tomorrow, so asked I her to send me some bullet points to get me going. Her first round of bullet points I found hilarious, and I'm sure were not meant to make it into the final version of the bio, but guess what? It did. Here are her bullet points, and here is me decoding them for you.
Has no kids, but usually acts like one.
Has no kids; therefore still has full use of her brain! Also, currently serving as favorite unofficial Aunt to several small children.

Not an educator, only semi-educated, but educational to watch… as in 'don't do what she just did.'
Ummm. Pretty sure teaching A.P. Environmental Science and Honor's Chemistry in high school, and that nearly completed PhD counts for something. Right?

Has spent much time outside. This may or may not have fried her brain.
Yes, it likely has, let me find that study about brain fried women making good bloggers…

Knows a thing or two about the birds and the bees
Don't panic, this blog will remain rated G. What Olivia is trying to say here is that she's studied bees for over 15 years. She's spent time wandering around (she calls it 'filed work') Utah, Nevada, Oregon, California, New Mexico, Illinois, and Greece. As byproduct she knows more about the natural world (including birds) than Bear Grylls.
A few more bullet points about Olivia that need no decoding:
Likes to walk, but not in heels.
Prefers smoked hotdogs to smoked oysters.
Will take rock-hounding over crystal-therapy any day.
Owns five backpacks, but not a single handbag.
Understands the importance of accessorizing: no outfit is complete without a pocket knife or leatherman.
Loves teaching, hates public speaking.
Loves learning, hates classrooms.
Loves exploring, hates not knowing.
Loves sharing, hates group-work.
Learned to a paddle a canoe from her mom.
Learned to call coyotes from her dad.
Learned to camp alone all by herself.
I can't tell you how thrilled I am to have Olivia helping me out. I also can't tell you how thrilled I am at the 64 posts we brainstormed the other day. Yep. I think she's going to fit in around here just fine.