I know Bonnie because I know her daughters. I met Liv and Sus while living and working with them in the Grand Staircase. Never have I met women more selfless, self-sufficient, compassionate, strong, capable and outdoor savvy. I wondered how it was possible for two sisters to turn out so utterly amazing. I soon found out.
You should hear the stories Liv and Sus tell of their Mom.  She taught them how to slide down glaciers on the balls of their feet, using a stick as a rudder.  By excusing them from classes for a day of hiking, she reminded them never to let school get in the way of a good education.  She demonstrated the joy of mischievousness when she hid with them, snickering in the pitch black of a lava tube, while other tourists walked by unaware that anyone else was around.
She encouraged confidence by challenging them to jump off of even bigger sand dunes, swim in the even the coldest lakes, and find a way across (or down) even the angriest rivers.  And she taught them to appreciate fully the moment they were in, even as they prepared for what might come.  If you'd ever had the privilege to hearing these stories you would understand why I deemed Bonnie the perfect candidate for an OutsideMom interview.
Thanks for doing the interview Bonnie. Thanks for emphasizing that outdoor time can teach us about living no matter where we find ourselves. Thanks for reminding us of the value of spontaneity and the importance of throwing structure out the window.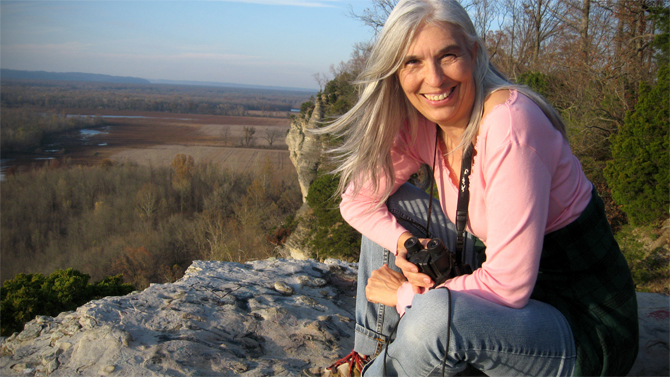 Why did you emphasize the outdoors when raising your girls?
Being outside teaches children to see themselves in context. In the built environment of the city, everything natural is controlled. I think children in the city eventually come to believe that control of everything is their right, and even (sadly) their responsibility. It burdens them with an inflated sense of their own importance.
If you think about it, it's just cruel. In the natural world, they are one part of something bigger. Their individual contribution makes a difference and can change things, but it doesn't bring down the house if they make a mistake. They are free to play, act, wonder, discover and experiment and to learn the consequences of doing just that. For city kids, the loss of a life is an earth-shattering event.  For a natural kid, it's part of a never-ending, life-affirming pattern.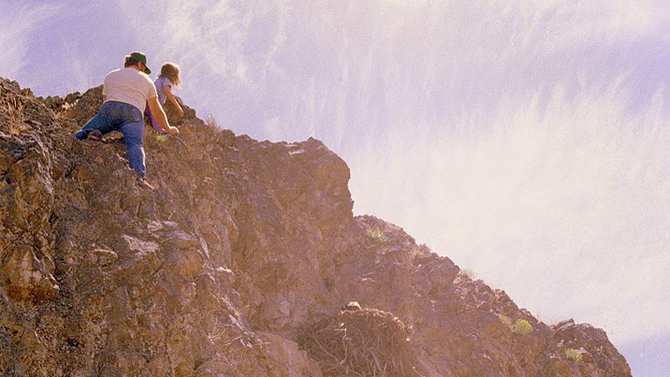 I would have never guessed your girls were raised in a city. How did they end up so outdoor savvy?

We spent most weekends in the desert. Each trip was a new adventure. We'd walk the dongas looking for skulls and identifying them, cruise the juniper groves looking for owl pellets and dissecting them, hike the ridges looking for bright rocks and panoramic views. I still have a pile of rocks from the remoter corners of the West Desert.
The girls learned to drive out there when they were too small to see over the steering wheel and had to sit on rucksacks (Jim put the Jeep in low range and just let it crank along the back roads). I remember watching the sun rise lounging back on the windshield of the car–the girls sandwiched between Jim and I and all of us soaking up the warmth of the engine through the hood underneath us.
I remember huddling together in sleeping bags on the ground watching a meteor shower far from the city lights at 2 am on a school night. When the girls were small, we bundled them up in their jammies once a week and headed out to the "Star Party" (local astronomical enthusiasts brought their telescopes to a prearranged place and let us all gaze at various stellar bodies). The girls were under 5, so they didn't last too long. We put them to bed in the back of the car when they couldn't keep their eyes open any longer.
I think they owe their "savvy" to the wealth of knowledge they gained from accidental lessons (and from their Dad, Jim)–you have to be there at the right time and that means being there a lot. It means that you have to make a choice between giving your kids "outdoor savvy" or winning the "neighborhood beautification" award. Our home was comfortable, but not very orderly and our yard wouldn't have won any prizes. We weren't the ones at the weekend fundraisers or doggie parades. It's a matter of deciding how you will spend your time.
What's your favorite memory of your children learning something outside?
Gosh! There's so many! We had a game that required them to hide so that their Dad (a true outdoorsman) couldn't find them. They learned about the importance of light places and of dark places, about camouflage and holding still and being patient. They learned about predators and prey and gained a level of self-awareness that isn't taught indoors.  The satisfaction of being NOT found was as wonderful as the thrill of being found. We found a natural space with varying degrees of cover and turned our backs for a specified period of time–longer and more remote as they years went by. It was a great game and they learned much more than just how to hide.
I remember one night in particular. There was a filming of a Steven Spielberg movie going on up the road from our house in a small canyon. The scene was a deer crossing the road at night, I think. Jim and the girls dressed in dark clothes. They crept and belly crawled an inch at a time into the cordoned off area and watched the filming undetected. They came home elated!
Did your parents emphasize outdoor activities with you? How much of an influence did that have on the way you raised your girls?
Yes. Open water was for skinny dipping, trees were for climbing, and rocks were for leaping. We camped often. My grandparents took all of the grandkids every summer for several weeks. Each family unit (kids only) had their own huge, umbrella, safari-type tent and we always went to some wonderful place–Yosemite, the beach, whatever. My grandfather made rock pies for us over the campfire. We all collected apricot sized rocks, scrubbed and sanitized them and he sealed them in a pie crust. We all watched him put the pie in the camp oven before heading out to play. Two hours later, the stones had turned to apricots–those were the best pies.
I think the part that influenced me most was that outside was always more fun than inside. In today's world, we would have been thought of as wild kids, but we were comfortable outside and my folks didn't worry about us. I rarely slept in because morning was the best time for finding lizards (they were slower in the morning) and for picking blackberries (before they got warm). Afternoons were for climbing trees (the wind blew harder in the afternoon and the top of the tree was much more exciting in a high wind) and catching water skippers. I wanted that for my girls.
What do you think is the biggest obstacle for parents getting their kids outside now days?
Preoccupation with personal comfort/convenience and lack of spontaneity. A good time outside doesn't have to be structured–you don't have to pack up the gear or load up the motors each and every time. You can just go. Anytime is a good time to get out.
The notion that living up to the expectations of people who judge your outsides (your body, your house, your profession) is more important than teaching your children to nurture what's inside.
The sense that things have to be perfect in order to have fun.  We camped in mended tents, with old cooking equipment. The less perfect your goods, the more creative you have to be. The creative part is what appeals most to kids.