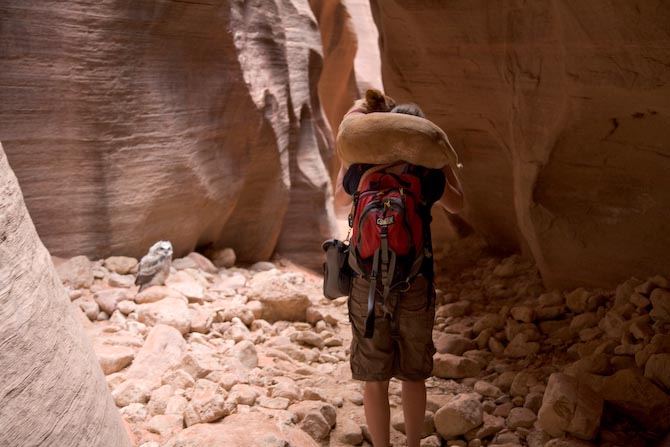 That's me and my daypack above, and my dog, which I don't typically add to my daypack; unless of course your passing an owl in a slot canyon or walking through a grove of Cholla. I guess technically I shouldn't say it's MY pack, I married into it. I'm not sure why it's been my favorite over the past 10 years. It's a camelback but I never put the bladder in it, I'm not a fan of the outer strapping system and it's not like it's THAT comfortable…guess I've never really thought about getting a new one. I guess there's just something to be said for well-worn gear?
But that's not really the point of the post, the point is what's IN the daypack. I take this pack with me every time I embark on a day hike with the kids, and when I say day hike I'm talking 3 miles max.
For the sake of ease there are several items that stay in the pack. At first glance it looks like a lot, but most of it you can fit in a small Pack-It Sac.
Toilet paper – Snotty noses and bathroom breaks.
Dog poop bags – For dog poop as well as bathroom break TP or used diapers.
Diapers
Bum wipes – Obviously for bums, also for hand wiping after holding a grasshopper and it spits up on you, etc…
Knife – Because every pack needs a knife.
Suckers – 'Incentives' for when your child is toooo tiiiiirrrreeed to go on.
Small first aid kit – 10 Bandages, 2 Gauze Pads, 4 Alcohol Wipes, 2 Triple Antibiotic Ointments, 2 Sting Relief Towelletes, 2 Antimicrobial Towelettes, 1 small roll athletic tape.
Bandana – Forgot a hair thing, forgot TP, need a tourniquet, babies bald head getting sunburned… always handy!
Tweezers – Originally added so I could collect the Mutillids (Velvet Ants) Joe studied for his PhD, these have also come in handy far too many times for slivers in both children and dogs.
Duct Tape – Take some off a your big roll and wrap some around a pencil or stick, comes in so handy it deserves a post all it's own.
Plastic vial – For catching and observing bug specimens.
Trowel shovel – For digging catholes, or in our case it mostly gets used for just plain old fashion digging.
Sunscreen
Then there are the items I always add to the pack prior to leaving the house:
Snacks – Favorites include: granola bars, dried fruit, cheese, crackers.
Water
Jacket or long sleeve shirts – Important in all seasons for sun exposure of cold weather. Also, adult-size layers work well for bum changing blankets.
Sun hats
Camera – I don't usually take my big SLR when it's just me and the kids, not enough space/hands so I pack a small point and shoot. Ari ends up using it more than I do.
And depending on the 'adventure' these items might make it in as well:
Magnifying lens
Ergo Baby Carrier – Just incase I want to hike over a mile and know I'll end up carrying Isaac.
Binoculars
Toy trucks – Particularly important when hiking to sand dunes.
I try not to have much of a goal in mind as far as length, sometimes we only make it 500 feet, and that's ok! Usually it's because there were some pretty important distractions; a rock to climb, a bug to catch, birds to watch, ant hill to observe, a stick that looks like a gun, monsters that need to be taken care of… The primary goal is just being out, so go for quality over quantity and just enjoy playing in the dirt.
So, what's in YOUR daypack? Did I miss anything?