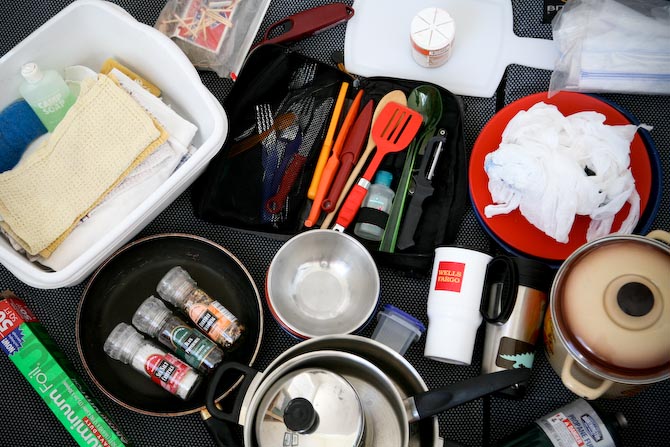 There are two things that usually deter women from being enthused about camping. Food Prep and Hygiene. As women it seems like we're born with this innate need to have a well stocked kitchen, to make sure everyone is well fed…and to go to bed clean. I've always enjoyed cooking, but I'm not a fan of packing up the kitchen every time we embark on a camping trip. I'm also not a fan of getting out in the middle of nowhere without something like, utensils (trust me, this has happened, it's hard to eat spaghetti with a pocket knife).
To remedy this I've assembled a 'kitchen box'. Everything in this box STAYS IN THE BOX. Always! Having a mobile kitchen makes the packing process seems much less daunting knowing you don't have to pack up your kitchen.
Most of the stuff in our box (list below) came from thrift stores, surplus wedding gifts, Ross, things my Mom was throwing out when she upgraded her cooking ware, etc. It doesn't have to be expensive. Once you have assembled your wares, buy a plastic tote from the local whatever mart, throw everything (I mean neatly stack) in there, and whala! Your mobile kitchen. I know it looks like a lot, but trust me, it fits snugly in a 66 quart tote.
Here's what's in my kitchen box:
Pots – 3-4 of various sizes, get at least one more than you think you'll need so you can have a clean pot for heating dish water.
Skillets – 1 medium and 1 small seems to be fine.
Plates & Bowls – One for each camper and a few extra. Or insert the word "paper" in front of this item.
Utensils – Forks, knives, spoons and don't forget the baby spoons. Â Put them all in a small travel pouch or large cup.
Knives – The ones that come with the sheaths are my favorite. Get a couple small ones and a big one.
Cutting Board – Small one will do.
BBQ Lighter – One like this.
Matches or lighter – Just in case your fancy BBQ lighter dies.
Ziploc Bags – Take a few different sizes out of your kitchen, shove them all into one large zip loc. They come in handy.
Paper Towels – A very big roll. Wipe your pots out before you wash them, makes the dish water last longer.
Spatula
Whisk
Serving/Stirring spoons – 2-3, the kind with long handles.
Can Opener
Vegetable Peeler
Cheese Grater
Splatter Screen – Keeps grease down on your stove and makes a great spaghetti strainer.
Hand sanitizer
Towels/Dish Rags – I have about 8-10 kitchen towels, primarily used for drying dishes, and kids.
Dish Sponge
Biodegradable Soap – I use campsuds for my dish and hand washing needs.
Tupperware – 3-4 of various sizes, handy for leftovers.
Mugs – Essential on cold mornings.
Cups – Drinking cups, sippy cups, water bottles.
Spices – Pack all your favorites. Salt, pepper, season salt, garlic powder, red pepper, cinnamon and don't forget sugar.
Oil – Small bottle of olive or vegetable oil.
Tin Foil – Handy for makeshift lids, biscuits on the fire, roasting veggies or tin foil dinners (I'll have to post my recipe).
Garbage Bags – I toss in a whole bunch of plastic grocery bags as well as some big black trash bags.
French Press – I'm not a coffee drinker myself but I hear this or a filter cup with filters comes in handy.
Propane – Or whatever fuel fits your stove.
Hot Dog/Marshmallow Roasters – The real deal, or the ones made out of hangers (might not fit IN tote, if not keep on top).
Stove – My stove doesn't fit in the plastic tote, so it lives on top of the tote.
I actually really like to cook when I'm camping, partially because I know I have all my gear in order and partially because we usually camp with friends, and it's just really nice to have good company to cook for and to cook with.
Download Kitchen Box Checklist Here
Did I miss anything? What's in your mobile kitchen?
Now that your kitchen box is assembled here are my three favorite camping dinners a meal that's so versatile it can be made three different ways.