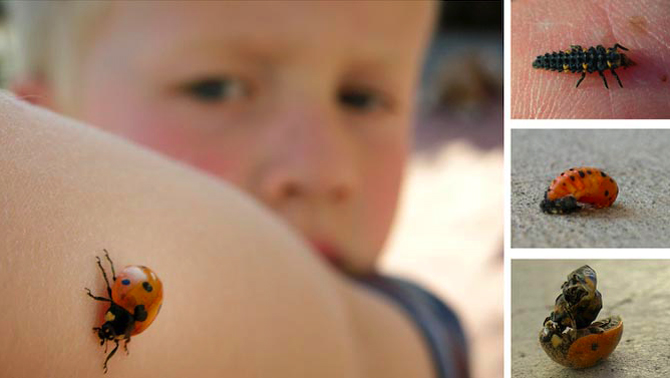 A few months ago Ari and I attended a pre-school program at an education facility here in Reno. The program (taught by a college kid) was about ladybugs. In the course of this lesson we learned that "ladybugs grow a new spot for every year they are alive, so if you look at a ladybug and count its spots you can tell how old it is…"
"Really? That just didn't sound right to me." I kept my mouth shut and made a mental note to bring this up with Ari somewhere down the road.
Last week opportunity knocked in the form of some ladybug pupae attached to our sidewalk. I knew this was the moment I'd been looking for; time a little critical thinking 101. We took the chubby little pupae home and put them in a jar where we could check them daily. It took a few days, but finally we noticed something starting to break out of one of the pupae. It was a ladybug! We watched the process for quite sometime, and when the little critter was finally free, Ari and I had the following conversation:
Me: So Ari, remember when we went to that program about ladybugs at the (undisclosed education facility in Reno)?
Ari: Ya
Me: Do you remember what you learned about their spots?
Ari: Ummmm, they have spots.
Me: Well, ya, but do you remember what she said happened with the spots every year?
Ari: They grow another spot.
Me: Right, the teacher told us that ladybugs grow one new spot every year, so the spots tell us how old they are.
Ari: Ya, it's on their birthday.
Me: If our ladybug just came out of it's pupa, how hold is it?
Ari: Ummm, I don't know. One?
Me: Yep, or maybe even zero! So how many spots should it have?
Ari: One.
Me: Ya, but no more than one. How many does it have?
Ari: 1… 2… 3… 4… 5… It has 5 spots.
Me: Really? Interesting…
Ari: (thinking face, long pause)…Heeeey! She was wrong!!!