When I first started dreaming up this blog I knew I wanted to interview other Outside Moms; moms who had in one way or another inspired me, moms who I knew had the potential to inspire others. Moms like Jill.
Jill lives in downtown Cairo; she's the wife of a US Diplomat, mother of three, an adventurer, an amazing artist and yes, an Outside Mom. I've been so impressed over the years at how she and her husband manage to fit in adventure after adventure. I mean really, who in their right mind moves to Egypt and immediately locates the closest and best camping spots? Not many. Thanks for doing the interview Jill. You amaze me. Thanks also go to Josh (her husband) for taking so many awesome photos.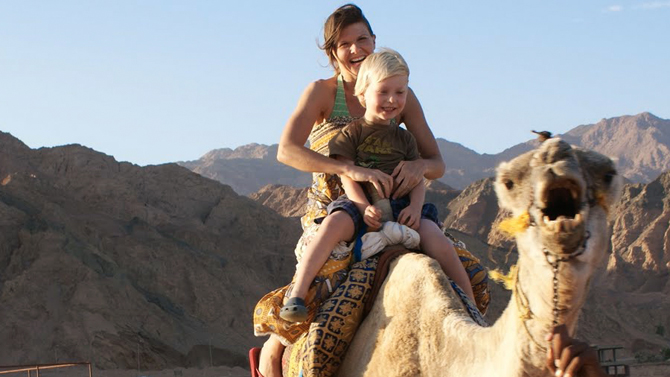 There's a growing movement here in the US to get kids outside more. Do you know of any such movement in Egypt?
I would say no.  I think that there is not really a need for it in Egypt. Kids aren't couped up indoors like in the US. With all the open air markets, cafes, restaurants, and the amount of walking Egyptian life requires, "outside time" and "exercise time" are kind of foreign idea to most. Kids are already outside working for income, tagging along with their parents or just roaming the streets. Egyptians stay out late too. Its not uncommon to see a whole family with young children out at 1 or 2am out and about at a restaurant or shopping. An interesting side note is that it is somewhat culturally unacceptable to take babies outside, so they often set them on their balconies so they can get some sunshine.
Living in Cairo are you able to work some outdoor time into your typical daily/weekly schedule? What would a typical outdoor outing be like?
We live in an apartment with tiny balconies that get filthy with Cairo's everyday dust and grime. Al-Azhar Park is a beautiful green area in the middle of Cairo that has playgrounds and grassy hills. Its quite stark in contrast to the rest of the city, but you have to pay a few dollars to get in, and it is about a 15 -45 minute drive from our house, depending on traffic, so we usually only go there on weekends. We do belong to an American club house and also have access to my son's school grounds.  So our day to day options for getting outside are: swimming at the clubhouse, playing on the playground after school hours, playing on our roof top and walking in the open air markets.  On the weekends we usually go to our son's soccer/t-ball games, go explore or go camping at wadi degla nature preserve (it's a dry wash that is near by), explore a new neighborhood or tourist sight, go to Al-Azhar park. A felucca ride on the Nile is one of our favorite ways to get outside. In Utah we used to get friends together and go up the canyon to have a campfire. In Egypt, you go out on the Nile with a big group and eat a picnic on the boat. Its surprising calm and cool on the water and you usually go out around dusk.  You can also reach the Red Sea in about 1 1/2 hrs. which is a great day trip to the beach.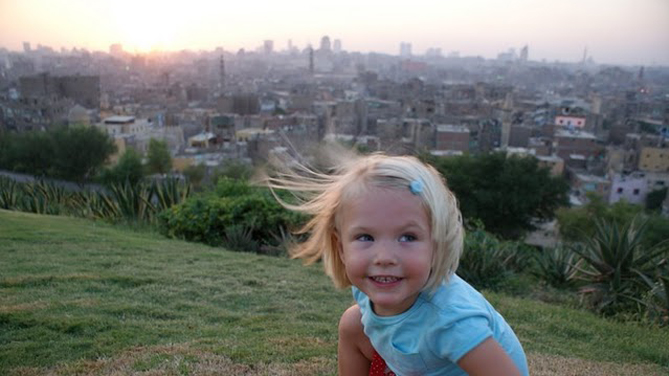 What are the major obstacles to getting your kids out?
There are loads of obstacles in Cairo for getting outside.  The pollution is beyond any "red light recess" day in the states.  Sometimes the air is so thick you can't see the building across the street. Somedays your eyes burn. New arrivals always come down with the "Cairo cough" a few weeks after arriving, but bodies adapt after awhile and the other obstacles become more important.  These include the lack of green space; no sidewalks; very crazy traffic; trash piles; wild street dogs, potentially with rabies (seriously, Cairo has a lot of street dogs) and the 113 degree summer days.  I have to mention that my kids' hair is so blonde that it's almost white, so another obstacle is that people want to touch my kids hair, take pictures of them and give them kisses constantly.  This happens daily, but I love that Egyptians love children and kids are welcomed and excepted anywhere here. We've trained our kids to ask for tips, but Egyptians just laugh.
What do native Egyptians do to get out and recreate?
I see a lots of Egyptians picnicking.  There is really only one park in Cairo so they picnic at the zoo, on the side of the roads, on felucas (boat in the Nile), everywhere, especially during Ramadan.  They even have little portable tea sets to bring out on picnics.  I have seen kids swimming in the Nile (I wouldn't recommend it), playing soccer in the streets with whatever they can find and riding bikes. I don't think they do much camping for recreation though. One time we were camping in Wadi Al-Hitan (whale bone valley) and we were surprised when joined by a family of Egyptian campers, it turned out to be a guy from the Ministry of the Environment and his family.  They seemed very unprepared and quite uncomfortable. They told us that this was their first time camping. This is part of a bigger problem in Egypt. Egyptians generally don't get out to experience their own country and see famous sites. We live about 15 miles from the Great Pyramids and our Egyptian doorman has never seen them before. Maybe this will change as Egyptians are starting to take much more pride in their country post-revolution.
Being that you and your husband are seasoned US/Baja road trippers, how is road tripping/camping different than what you're use to?
Actually, roadtrips in the region have felt very similar to Baja, but not always. In Sinai and near the Israel border there are lots of check points (make sure to carry passports), you usually can't understand the road signs (this hasn't really been a problem except when suddenly there's a speed bump in the road and your going 60mph), we quickly figured out which sign means speed bump. Some other differences are; bad roads, sand storms, areas that require permission from embassy to enter, gas stations are often sparse so you have to plan ahead.  We have encountered camels, goats and various other animals in the road, often herds of them. We don't drive at night outside of Cairo, which cramps our usual road tripping habits, as we used to drive all night while the kids slept.  Even during the day, drivers are insane and basically anything goes on the road. Camping has been fairly easy the few times we've gone out. The packs of dogs made us a bit nervous when we've camped closer to the city. When we camped further out in the Sahara we've attracted foxes, but didn't worry about the dogs. All our camping was pre-revolution but we felt really safe, even camping 30 minutes from our home in Cairo. Of course, our plans for camping in the western desert have been cancelled, as the security situation is still shaky.
Give us a laundry list of the places you and your family have visited while living in Egypt.
All the basic tourist sites here in Cairo, lots of mosques, souqs etc; Luxor and sites around; Wadi Al-Hitan (Whale Bone Valley) in the western desert, snorkeling Dahab, Taba, Ain Sukhna and other Red Sea areas; Sinai hiking (Mt. Sinai and St. Catherine's).  We also got out of Egypt to parts of Jordan and Israel. Amman, Petra, Wadi Rum camping (think southern Utah but not quite as cool), Dead Sea (twice), Jerusalem, Lake Tiberius (aka Sea of Galilee). ..still bitter we can't travel this spring before we leave this summer!
What's been your favorite outdoor adventure so far while living in Egypt and why?
Camping with the Bedouins in Wadi Rum and day hiking around Petra.  When we first moved to Egypt my husband had to go to Amman, Jordan for work. The kids and I decided to tag along.  On a long weekend we rented a car and drove three hours out of Amman to Wadi Musa, the town that nearest to Petra.   It was a great way to see the country and some out of the way places. Petra was much more amazing then we expected. It was great for the kids too because there were all sorts of Bedouins around that let the kids rider their animals when they got tired. Moses (our son, I know it's ironic) rode a camel, a donkey and a horse drawn carriage over the two days we hiked there. This was truly one of the most amazing places we've been. Epic.
After a couple days hiking around Petra, we headed another couple hours south to Wadi Rum, where we got hooked up with a guy that took us clear out into Wadi Rum Deseret in an old beat up SUV that kept breaking down. He showed us some huge sand dunes, arches and other red rock formations and some petroglyph of camels.  We got out and played at each stop. We ended up at a Bedouin campground.  We eat an awesome dinner cooked by a Sudanese "chef", watched the sunset as we sat on a cliff and then put our kids to bed in our own authentic, camel hair tent.  We stayed up sipping dessert tea and sharing stories around a fire with a few Euros that were camping out too.  The next day we drove the rest of the way down to the Red Sea at Aqaba. We hit a public beach where all Muslim ladies were fully clothed (even the ones in the water!).
Your moving to Zimbabwe next. What excites you most about living in Africa?
We love Egypt and we will miss it but I think our main complaint about living there is the lack of green space and the sheer size of the city. We decided Harare, Zimbabwe would be a breath of fresh air (hopefully literally!) and a little green space of our own.  We have heard that because of the temperate climate, the embassy housing there is designed around outdoor living with nice sized yards. I'm probably most excited about having a garden and hopefully a few dairy goats.  And of course we are excited to see big game wildlife, and have new places to go hiking and camping.