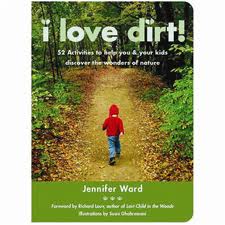 I Love Dirt! by Jennifer Ward, is described as "52 activities to help you and your kids discover the wonders of nature".
Does it live up to this claim? Yes. Although I'm not sure I would call them all 'activities,' maybe something more along the lines of 'conversation starters,' 'exploration ideas,' 'questions'?
What I liked about this book:
Even if you know nothing about nature, you'll still feel confident using these activities.
It doesn't matter where you live – urban or rural, east coast or west coast, near a little patch of green in the city or on 5 acres in the woods – the activities are meant to promote exploration wherever you are.
The kid-friendly explanations that accompany each activity are awesome!
Each activity has a Q&A box. The first time I read this book I just went through and read all the Q&A's– they're mostly just kid friendly factoids, but obviously parents love them too…
The activities are open-ended, therefore very little structure. As a result I must warn you that your child will likely have far more questions than you can answer. It's great!
The size of the book and the durability of the thick paperback cover make it a perfect candidate for your backpack.
This book may not be for you if:
You're looking for very precise step-by-step activities.
You're looking to entertain older children (this book targets ages 4-8).
You feel like you have covered a lot of the basic nature concepts with your child and are looking to dive into things a little deeper.
You want an activity guide with all the answers.
You have a background in Environmental/Outdoor Education. I'm willing to guess that if you're trained in this field you already do this kind of stuff with your kids, therefore you will likely not find a whole lot of new information, just reminders.
Overall the power of this book really lies in it's SIMPLICITY. Watching clouds, smelling the rain, experimenting with gravity, feeling the wind on your face, gazing at the moon, observing wildlife, etc. These things are so basic to us, but for a child they have the potential to ignite the imagination and drive curiosity.
Note: You can flip through quite a few of the activities here on Google Books.
Anyone else read this? Have you used the activities? Did you hate the book? Love the book? Share!