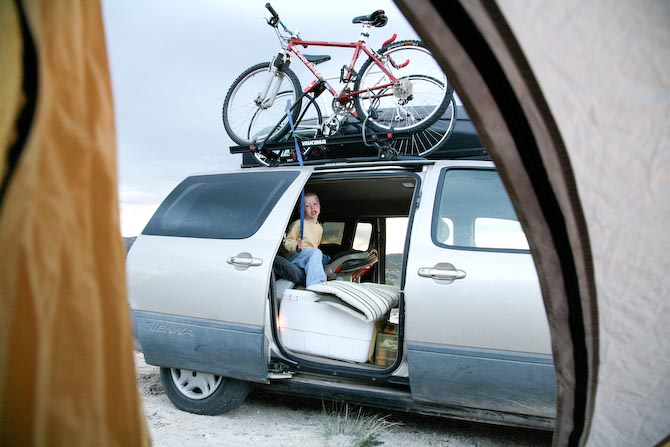 I resisted a minivan for years. Instead I preferred to shove a kid, a dog, a weeks worth of camping/outdoor gear (and on one occasion 3 chickens) into or on top of our wagon. There was zero floor space anywhere, I couldn't move my feet, rarely could you see out the back window, it smelled like dog breath and because we didn't have tinted windows I once saw someone taking a photo of us with their cell phone. It was apparently a sight to behold.
I finally caved after Isaac was born. It took one road trip with an additional kid/car seat and I was done, a 2001 Toyota Sienna it was. You may be asking why not an SUV? Well, minivans are just far superior. Theeeey ummm, well, they… Ok, maybe superior isn't the right word, how about practical? Economic?
Things I've learned (and trust me, this took time) to love about our minivan.
1. We paid cash for it. I wanted a Honda Pilot, which would have meant taking out a loan, which would have meant going into debt, which I'm really glad we didn't do.
2. It's versatile. Around town we only have the front seats in, this allows maximum child access for the driver and  plenty of room in the back for gear. On road trips we switch it up and only have the back bench in. This allows space in the middle for a cooler, a crate of food and a crate of toys/books and the bouldering pad (which is great for changing diapers, taking naps or eating lunch on road trips in the winter. Oh, or bouldering). All other non essentials are piled up in the back on our makeshift shelving system or on top in the rocket box.
3. We can sleep in it. And quite comfortably actually, unless you count the time I slept on my arm funny and couldn't move it for 2 weeks. This configuration involves the back bench, the bouldering pad folded out and a hammock along the roof.
4. Safety and reliability. A older VW van was also an option. We just didn't think it could handle the 10,000+ miles a year we typically put on our vehicle. Also, when your trying to get from point A to point B with little ones, speed of travel is a factor, so is not blowing over in a wind storm.
5. Gas Mileage. We also considered an extended cab truck, and minivans don't that great of miledge, but they do get better than a truck.
6. Roomy. Change you and the kids in and out of snow gear, biking gear, swimming gear, etc. I also love that I can walk from the front to the back just by bending at the waist.
And things you may not be able to handle about a Minivan:
1. Clearance. It's no truck, it's not even an Outback, but ours does ok. A big reason we went with an older Sienna (without stow-n-go) was the clearence factor.
2. 4-Wheel Drive. This and clearance has been the hardest one for us. Sure limits your exploring capabilities.
3. People Automatically Assume You Drive Slow. It's true, after a stop light they don't even give you a chance to accelerate at a normal speed. They just zoom around and get ahead of you as soon as possible.
4. The Hip Factor. I know this is debatable, but despite Honda and Toyotas video efforts to change the Mini's image, I just don't know if it's working? Maybe if we camping minivan owners band together we can have better luck? That is until I jump the minivan ship for a 4-door Toyota Tacoma with an extended bed and camper a shell…
What's your family camping vehicle?