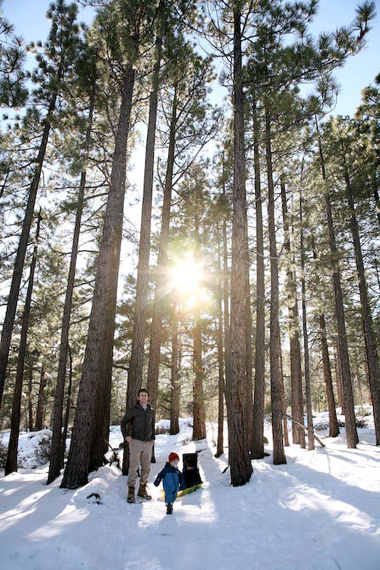 We were out for a sled hike the other day, Isaac was being crabby and didn't want to be in the sled, so I decided I would let Ari sled down a hill on his own. I mean he is 4, it really was time he learned to manage his own sled?
First of all, you must understand that we were coming down a trail above a popular sledding spot, on a Holiday, which also happened to be a bluebird day. The hills near the parking lot at this place were PACKED with people.
So here come Ari and I down the trail and as we get closer to the hub of sledders I notice Ari getting more speed than I had anticipated, then I looked ahead and noticed him passing a pack of hoodlums and heading in the direction of a large bush on the edge of a creek instead of the trail. I sprang into action. I ran as fast as I could after the sled and when I saw that I wasn't going to make it I jumped as far as I could, threw my hands out in the air and landed sprawled out just in back of Ari, my fingers gripping the edge of the sled. Ari stopped about an inch from getting a face full of shrubbery. The hoodlums cheered! They waved their discount store brand snowboards and cigarets in the air, shouted curse words and clapped. It was a beautiful moment.