I met Kerry and her 4 year old son Alden at Coast Camp (a backpackers camp) in Point Reyes National Park. I noticed her and her son walking down to the beach and wondered how she managed to get her son down there; and in such a seemingly good mood! My eyes looked up the trail to where they had come from and I noticed a camp with 2 man tent and a mess of bike paraphernalia. I was intrigued.
Luckily the next morning when we passed by their camp they were up so I stopped by to chat. Turns out it was just her and her son and they had biked in. Her idea was so genius I have to share it.
1 adult bike
1 trail-a-bike (http://www.rei.com/product/774425)
1 bike trailer (http://www.rei.com/product/798369)
1 old dirt road turned bike trail (route highlighted in yellow below)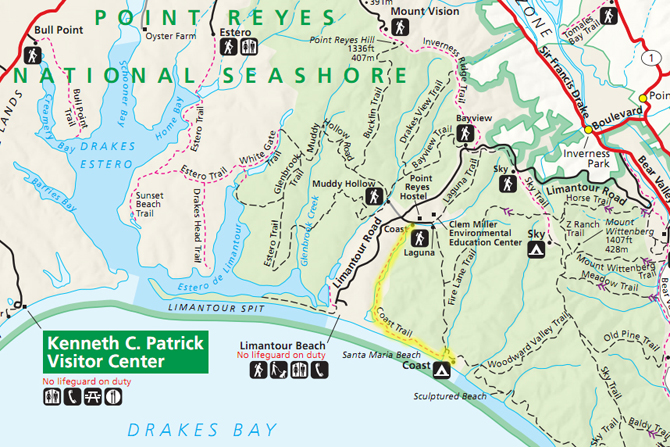 IÂ REALLY wish I had a photo of their set-up to share, a mile down the trail I was kicking myself for not snapping one. Kerry was of course on the bike, Alden was on the trail-a-bike and all their gear was in the trailer. Of course the links above will lead you to drool over all sorts of new and fancy kid biking gear, but what impressed me most about Kerry's set-up was that none of her stuff was new, nor was it name brand. Most of the stuff you need for a trip like this can be found at thrift stores or online classifieds, you don't need to go out and drop a ton of cash to be able to do this. The other thing that really inspired me about Kerry was that she was there alone with her son. Orchestrating something like this by yourself, or even with a spouse/friend has the potential to sound a little stressful, but I'm pretty sure that if your child had the same smile on his face that Alden did, you would find that it was all worth it. Plus, check out some of the views awaiting you near a place like Coast Camp.
Anyone out there ever done the backpacking thing? Any tips?