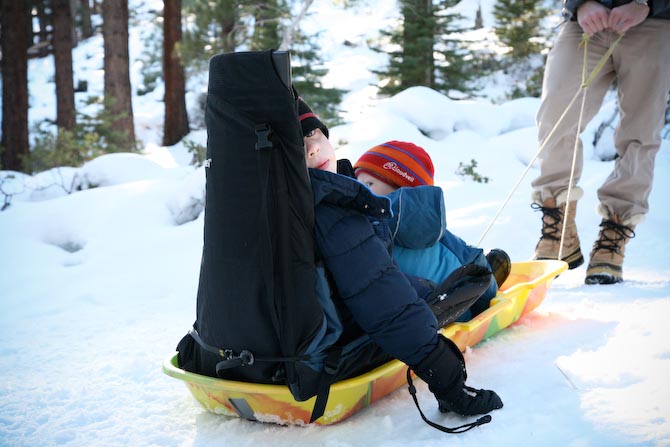 Hiking and snowshoeing in winter when you have young kids is tough; or at least I use to think it was, before we were introduced to sled hiking, or extreme sledding, or whatever you want to call it. After our first run we were hooked, and it's not too gear intensive. All you need is:
Winter clothing for all
A sled build for 2 (or 4)
A trail with a little steepness (preferably not one that's too popular or too steep)
Some upper leg (thigh and butt) muscles. (Don't worry, if you don't have those now, you will.)
You drag your kids up the trail as far as you can, or until those leg muscles are about to give out, or until your 1 year old starts to hurl himself out of the sled. Stop for awhile, play in the snow, eat snacks, hang out, etc. Then you turn around, secure everyones winter gear and enjoy the ride down. Sometimes we barley make it a half mile up the trail (especially if it's just me and the kids), other times we make it several miles.
If you want to get fancy there are a coupe other items of gear you might want to consider.
Camp chair (in photo) for maximum comfort
Helmet (important if you picked a steep trail or if your not good at manning a sled)
Goggles (if it's snowing)
Kid backpack (if your child is too small/crazy to stay in the sled
One things for sure, no matter who you are you can't wipe the smile off your face all the way down.